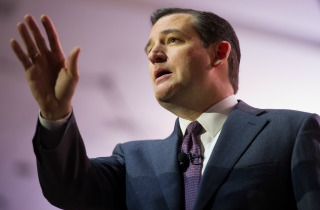 Though he spent the beginning of April decrying the "gay jihad" waged by liberals and businesses against the religious freedom laws in Indiana and South Carolina, Sen. Ted Cruz (R-TX) not only made an appearance at the home of two prominent gay hoteliers in New York City, he also admitted that he wasn't that much of a hardliner:
Ian Reisner, a real estate developer and the owner of Out NYC (cheekily described as a "straight-friendly resort"), told The New York Times that he and his business partner Mati Weiderpass held an informal gathering for Cruz, with roughly a dozen guests. Though it wasn't a fundraiser, it was a chance for the guests to hear about Cruz's foreign policy vision, and then this happened:
"Ted Cruz said, 'If one of my daughters was gay, I would love them just as much,'" recalled Mr. Reisner, a same-sex marriage proponent who described himself as simply an attendee at Mr. Weiderpass's event.

Mr. Reisner and Kalman Sporn, who advises Mr. Cruz's Middle East team and served as the moderator for the evening, said that the senator told the group that marriage should be left up to the states.

He did not bring up his own opposition to same-sex marriage during the evening, which focused mainly on foreign policy.

An aide to Mr. Cruz, reached on Thursday, reiterated that the senator is opposed to same-sex marriage.
Earlier this month, Cruz made headlines for calling the efforts against Indiana's recent Religious Freedom Restoration Act a "gay jihad", and blasted the businesses that threatened to leave the state due to their belief that the law allowed discrimination against LGBT customers.
""The Fortune 500 is running shamelessly to endorse the radical gay marriage agenda over religious liberty to say: 'We will persecute a Christian pastor, a Catholic priest, a Jewish rabbi'," he told an Iowa crowd then. "'Any person of faith is subject to persecution if they dare disagree, if their religious faith parts way from their political commitment to gay marriage.'"
[Image via Shutterstock]
—
>> Follow Tina Nguyen (@Tina_Nguyen) on Twitter
Have a tip we should know? tips@mediaite.com