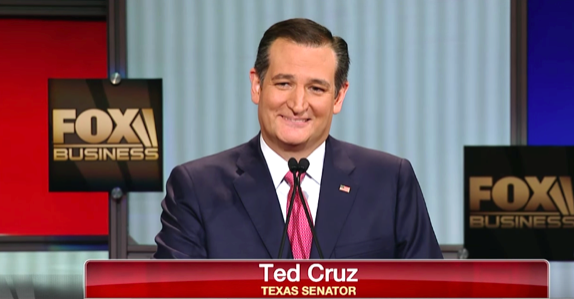 Ted Cruz once called Donald Trump a "pathological liar," a "narcissist" and "utterly amoral." The comments came as his own campaign for the Republican nomination was flaming out and after Trump suggested his wife was ugly and accused his father of being complicit in the the Kennedy assassination.
But, as the saying goes, time heals all wounds. Recently, Cruz brought the whole family over for dinner with the President and First Lady Melania Trump. In a tweet, Cruz posted a photo of his two daughters posing with Trump in the Oval Office and called the first couple, "warm and gracious."
Our family had dinner w the President & First Lady, who were warm & gracious. Catherine brought Joe–her kindergarten class stuffed giraffe! pic.twitter.com/fJ5GvuZ98B

— Ted Cruz (@tedcruz) March 9, 2017
Of all the Republicans vanquished by Trump in the 2016 campaign, Cruz's lost was likely the hardest. He was the last real candidate — sorry John Kasich — standing in the Republican nomination fight, only conceding the race to Trump after losing the Indiana primary. Cruz pointedly declined to endorse Trump at the Republican convention, using a coveted speaking spot to urge people to vote their "conscience"
While Cruz ultimately did endorse, pained video of the Texas Senator phoning it in for candidate Trump drew much mockery on social media.
The latest tweet brings Cruz back full circle to his stance on Trump during the early GOP primary.
The Establishment's only hope: Trump & me in a cage match.

Sorry to disappoint — @realDonaldTrump is terrific. #DealWithIt

— Ted Cruz (@tedcruz) December 11, 2015


[image via screengrab]
Have a tip we should know? tips@mediaite.com