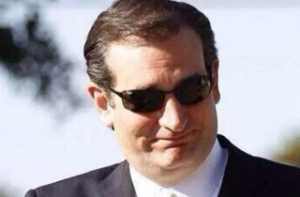 CNN has called it "astonishing" that Republican Iowa caucus winner Ted Cruz "continues to knowingly mislead" the public when it comes to his campaign's sneaky strategy to spread the false rumor that Ben Carson was dropping out of the race just hours before the caucus. SNL was less diplomatic, calling him a "nasty little weasel." His former classmates are "horrified" he is a candidate and a neurologist undertook a personal mission to conduct a study to find out why Cruz's smile "revolts" him.
Obviously, Cruz and his campaign already have quite a reputation for being slimy, but their latest move might be their slimiest yet.
The Huffington Post got ahold of a mailer sent out by Cruz's camp. Well, technically, it was sent out by the camp, but the envelope sure looked like it was a letter from Cruz's Senate office, though the small print assured recipients that tax dollars hadn't funded this particular mailing. The outside of the envelope was stamped with everyone's favorite postage-related phrase: "CHECK ENCLOSED."
There is a check inside, sort of, but it's fake. Adding even more insult to grimy injury, the fake check is made out to Cruz's campaign because the whole thing is just a tricky grab for donations. The campaign enthuses that "a group of generous supporters" would be matching every donation and even included a handy chart of a bunch of numbers being doubled so that the math-challenged could know exactly how much would be donated, should the fake check and sneaky Senate return address somehow compel them to give away their money.
The tipster who told HuffPo about the letter asked not to be named because the trick would have been "enough to fool [his] mother-in-law." The website's senior political reporter, Amanda Terkel, pointed out the following, which is bad news for mothers-in-law around the country:
Readers from Arizona, Oklahoma, Texas, Maine, Pennsylvania, North Carolina, New Hampshire and other states wrote in after this story was published to say they received the same mailer. It appears to have been sent out widely, to registered Democrats, Republicans and Independents.
And we just keep on Cruzin' toward the primaries…
[image via screengrab]
For more from Lindsey, follow her on Twitter.
This is an opinion piece. The views expressed in this article are those of just the author.