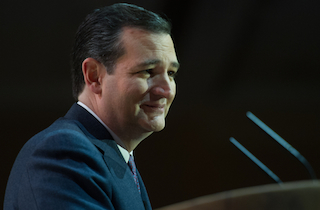 The Supreme Court effectively allowed same sex marriage in five states yesterday, a decision with the potential to affect six more, bringing the total number of states on their way to legalizing gay marriage to more than 50% (a majority swing that matches the change in public opinion about the practice).
But from the GOP, a party that used gay marriage as the ultimate wedge issue as recently as 2004, we heard nary a peep: challengers in major Senate races were quiet on the decision, while normally-risible Wisconsin Governor Scott Walker called the issue "settled." No one accused the GOP of embracing gay marriage, but it looked as though the party was quite content with no longer fighting it, either.
That's was until everyone's favorite spoiler Senator Ted Cruz (R-TX) weighed in. Licking his chops over the 2016 GOP primary battle, Cruz came out Monday in favor of a constitutional amendment banning gay marriage.
"When Congress returns to session, I will be introducing a constitutional amendment to prevent the federal government or the courts from attacking or striking down state marriage laws," Cruz said. "Traditional marriage is an institution whose integrity and vitality are critical to the health of any society. We should remain faithful to our moral heritage and never hesitate to defend it."
But as usual Cruz's maneuver will most adversely affect his fellow Republicans, who want to foist the responsibility for its legalization onto the courts. Quoth one aide (anonymously, natch) to TIME's Zeke Miller:
"We don't have to agree with the decision, but as long as we're not against it we should be okay. The base, meanwhile, will focus its anger on the Court, and not on us."
Hoping for just such a transfer, consummate 2016 hopeful Chris Christie dodged a question about the topic yesterday. If filed — and the junior senator from Texas is the exactly type to follow through on zany threats — Cruz's amendment ensures Christie and the rest of their party won't be able to dodge much longer.
[h/t TIME / Texas Tribune]
[Image via Christopher Halloran / Shutterstock.com]
——
>> Follow Evan McMurry (@evanmcmurry) on Twitter
Have a tip we should know? tips@mediaite.com