Ted Nugent Goes Off The Rails Again: 'Enraged Black Man-Child' Trayvon Martin Was A "Skittles Hoodie Boy"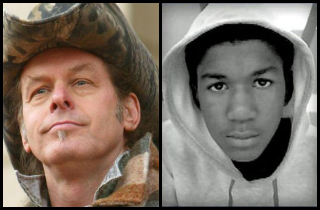 One day after musician Ted Nugent penned a column railing against "dope smoking, racist gangsta wannabe" Trayvon Martin, he fired off some more harsh words on WorldNetDaily, calling the late 17-year-old an "enraged black man-child" who was a "Skittles hoodie boy."
Following George Zimmerman's acquittal for the second-degree murder of Martin, Nugent has repeatedly spoken out about the damage he believes this case has done to the defendant's family, at the hands of the "race-baiting industry," i.e., Rev. Al Sharpton, President Obama, and Attorney General Eric Holder.
His Tuesday column for WND reiterated that exact belief:
[A]ll thinking people are very relieved that George Zimmerman was found not guilty by the intelligent, justice-driven women of the jury, in spite of the façade presented by the prosecution and forced by the threat of racism by everyone from President Obama, to Eric Holder, the New Black Panther gangstas, NAACP, excuse makers of every stripe and even the governor of Florida, but still this innocent man who simply defended his life from a violent, life-threatening, bloodying, head-and-face slamming attack by an enraged black man-child has so wrongly paid an inexplicable price financially and emotionally.
Nugent went on the lament the fact that the Martin family will "get a huge million-dollar-plus payoff from the gated community just to shut them up" and to "fend off the ambulance chaser racist lawyers for the simple fact that their son was guilty of a vicious, violent attack on a man for no good reason whatsoever."
And then Nugent went on an all-out assault against the late teenager:
But George Zimmerman and his entire family, innocent of any wrongdoing, have lost everything and will be in debt for a long, long time for having to fight the trumped-up charges that he 'profiled' and/or set out to murder the poor, helpless, dope-smoking, dope-peddling, gangsta wannabe, Skittles hoodie boy.
[h/t MMfA]
— —
>> Follow Andrew Kirell (@AndrewKirell) on Twitter
Have a tip we should know? tips@mediaite.com