Ted Turner's Republican Son Mocks Father In Run For South Carolina State House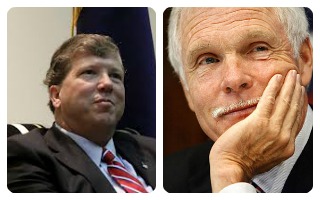 Teddy Turner, son of media mogul Ted Turner, is going to great lengths to prove to South Carolina's voters that his apple has fallen as far from the old tree as possible. Teddy Turner is mounting a bid for the state House in South Carolina as a Republican, and his focus is firmly set on making it clear that his political views are distinctly divergent from those of his father. To accomplish this, according to a report in POLITICO, Teddy Turner's campaign trail rhetoric has focused less on smearing his opponents and more on smearing his own father.

RELATED: Ted Turner Defends CNN's Ratings Struggle: I Wanted CNN To Be Like NY Times
"Yes, I'm Teddy Turner. You can't pick your parents," Turner, 49, said while introducing himself to a gathering of Republicans on South Carolina's Hilton Head Island.
At another point, Teddy Turner mocked his father's famous environmentalism for being marred by hypocrisy. "I'm like, 'Dad, you can't drive the Prius to the jet," Turner said mocking his father's selective environmental consciousness.
"My dad is one of the most successful figures in American history, and he's outspoken. It's kind of the 800-pound gorilla in the room," Turner said in a recent interview. "It's something I want to address because people have questions. … I can't escape it."
"My dad is an outspoken liberal, and when people don't know me in the political realm, they think I am, too," Turner added.
There appears to be no ill-will between father and son, however. After Teddy Turner recently completed an interview with Fox News Channel's Bill O'Rielly, Ted Turner sent his son a note congratulating him on his appearance and wishing him luck in his bid to become a South Carolina state representative.
"I saw your interview with Bill O'Reilly on Fox, and I thought you did a great job! I'm really proud of you, and I hope you win," the note read. "Best of luck. Love, Dad."
h/t POLITICO
> >Follow Noah Rothman (@NoahCRothman) on Twitter
Have a tip we should know? tips@mediaite.com