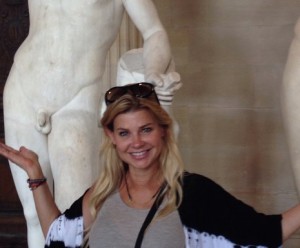 The Ted Cruz campaign has pulled an ad after it emerged that one of the actresses appeared in a number of softcore porn flicks.
In the ad "Conservative Anonymous," members of an Alcoholic's Anonymous parody meet to complain about having voted for Marco Rubio. "Maybe you should vote for more than just a pretty face next time," an attractive blonde woman says.
But The Daily Caller's Steve Guest was the first to report that the actress in question, Amy Lindsey, appears to have an extensive history of appearing in softcore porno films. Among her greatest hits: Kinky Sex Club, Milf, Carnal Wishes, Animal Lust, Insatiable Obsession, and Sex Spa II.
Her social media accounts feature pictures of Lindsey hanging out with porn actor Ron Jeremy and a video of her hawking her movie Milf.
When ur in #vegas there's a good chance u will run into this guy. @HardRock @RealRonJeremy pic.twitter.com/vXISDHZl6G

— Amy Lindsay (@amylindsayLA) January 21, 2016
Weirdly enough, she also played the woman who married The Doctor in the alternate timeline in the finale of Star Trek: Voyager, the worst of the Star Trek series. And yes, I'm including Enterprise.
After publication of the Daily Caller piece, the Cruz campaign pulled the ad and issued the following statement:
"The actress responded to an open casting call.  She passed her audition and got the job.  Unfortunately, she was not vetted by the casting company. Had the campaign known of her full filmography, we obviously would not have let her appear in the ad. The campaign is taking the ad down and will replace it with a different commercial."
UPDATE (9:53 PM ET): Buzzfeed interviewed the actress in question, who confirmed she was the same Amy Lindsay in the porno flicks. Lindsay told Buzzfeed she considers herself a conservative and a Christian, who will support either Cruz or Donald Trump. She emphasized that she has never done any hardcore pornography, but neglected or refused to comment on her work on Star Trek: Voyager.
Watch above, via Ted Cruz for America.
[Images via Instagram]
——
>>Follow Alex Griswold (@HashtagGriswold) on Twitter
Have a tip we should know? tips@mediaite.com