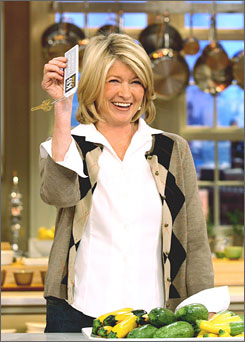 Martha Stewart has shown some pretty impressive vision with tomorrow's "Tech Show" – a show dedicated to the wonders of technology – and actually open to it. Where most studios are paranoid about photos, Twitter and the like (ever been to a Daily Show taping?), Team Martha sent out the call for tech-savvy audience members to show up — and bring their laptops.
Here's what they asked for:
"Do you spend hours tweeting about yourself or using Facebook? Is tech-social networking a "must-have" in your life? Well, we have the perfect show for you! On September 29, we're dedicating an entire show to social networking via technology. If you're passionate about tweeting, a Facebook addict, or a blogging fanatic, we want you in our studio audience with your BlackBerry, iPhone, or laptop in hand. If you're interested in requesting tickets for our "Tech Show," please tell us about your love of social networking — the more details the better."
Here's what they're going to get: Tweets, retweets, hashtags, status updates, Flickr streams, blog posts, wall posts, Tumblr reblogs, YouTube videos, #FollowFridays, and maybe even some attention from the MSM. Smart. Very, very smart.
Here's what they're nervous they're going to get: Awkward, slovenly misfits. The stereotype of the Internerd is that of a pajama clad (or less!) socially-challenged loner lit only by the glow of the LCD screen, typing furiously about what he or she had for lunch. That's changed, of course – who wears pajamas any more? – but still, it's amusing to note the exhortations to "Dress to impress!" in the information email.  It's almost as though they think that Internet people don't wear pants! Ha, ha. Ha?
********************
Show Date and Time: Tuesday, September 29th 2009 – 2 p.m. "TECH" show (you must RSVP to validate this invitation-see below).  Shows generally tape for at least one hour. Please keep your departure time flexible.
Arrival Time: 12:30 p.m. Late arrivals may denied entrance into the program.  Audience admission is based on a first-come, first served basis.
SPECIAL AUDIENCE THEME: It's our TECHNOLOGY SHOW!!!! A show all about technology….from Facebook, to Yahoo, to twittering and more! Every seat will be filled with audience members who are all about technology and tech social networking! Martha loves audience participation and we ask that every audience member bring a laptop, iPhone or Blackberry on show day so we can see you in action from your studio seats! Please be sure to tell us about you and your guests "tech" passion and what electronic "device" you and your guests will bring with you on show day!
What to wear: Please dress to impress. Everyone in the studio audience should be prepared to be photographed on camera.
**Please note that the studio is a bit chilly so dress appropriately. **
Women: Dress to impress! A chic dress, dressy jeans, or trendy and fashionable outfits are suggested.  Bright colors photograph best; Recommended: Solid Bright Attire/Dress shoes/heels.
Men: Dress to impress! Polo- type shirts or a button- up shirt are best. Please avoid black, gray, tan or any muted colors.
DO NOT WEAR: Black, gray, tan or any muted colors, T-shirts, prints, logos, hats, or sleeveless tops.
No sleeveless! There goes that whole Michelle Obama trend.  There's more, but unless you're already going you don't need the address.  Here's the rest, in a nutshell:
What kind of technology are you bringing? (Laptop, iPhone, Blackberry – ooh, Treo, you're outta luck!)
Plese let them know if you're a "crafter"
Cameras are permitted, but not during the show. No video. I suspect a few iPhone 3G users will sneak something.
Martha merchandise will be available! Major credit cards only, no cash.
If you're not feeling well the day of the show, please stay home and keep your Swine Flu with you.
Mediaite will have someone covering Martha's big Tech show tomorrow, so come on back and see what he has to say! We've instructed him to wear pants, but who knows.
Have a tip we should know? tips@mediaite.com