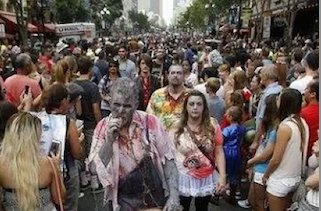 Something truly scary happened at this weekend's annual Comic-Con Zombie Walk in San Diego. As hordes of science fiction fans in hyper-realistic zombie costumes made their way through downtown San Diego, a family of four — all deaf — approached in their car and was promptly attacked by the overzealous "zombies" and spectators, one of which apparently jumped on the hood and smashed the windshield.
Frightened, the man driving the car tried to drive away and in the process hit and injured a 64-year-old woman who was not participating in the event, but just happened to be in the wrong place at the wrong time. The entire incident was captured on cell phone video and can be seen in the report below from NBC San Diego.
The reportedly "frightened" driver stopped when he reached police further down the street, where he was cited, but not charged with any criminal behavior. The victim of the incident was taken to a hospital where she was treated for injuries.
Watch video below, via NBC San Diego:
Organizers of the event released video of the incident from another angle, which they claim shows the driver was wholly at fault and was not attacked by the crowd until he started driving through them. The video was accompanied by the following statement:
Posting this video so that people can see what really happened. At the 2014 San Diego Zombie Walk, a car drove right through the parade. People approached the car once it was apparent that it wasn't going to stop. And yes, someone shattered the windshield, you can hear the punch at 0:24, but that was only once the driver slammed on the accelerator to blow through the crowd.
Watch video below, via Yellow Productions:
[Photo via Instagram]
— —
>> Follow Matt Wilstein (@TheMattWilstein) on Twitter
Have a tip we should know? [email protected]