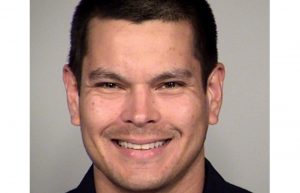 A five-year veteran of the San Antonio Police Department named Matthew Luckhurst has been fired after his colleagues were made uncomfortable by his retelling of a story that involved him feeding a fecal sandwich to a homeless person.
According to the San Antonio Express-News, the City Council was briefed on the situation yesterday. Ultimately, "Police Chief William McManus and two boards comprising citizens and police officers have all agreed on an indefinite suspension," according to the paper.
They could not determine what type of fecal matter was involved, nor could they locate the homeless person, who was allegedly given the sandwich in July.
Luckhurst's attorney is maintaining that the whole "poop sandwich" thing was a joke that never really happened. He says it "has turned is client into the subject of unfair persecution."
Here are some quotes from those involved.
Councilwoman Shirley Gonzales, who represents the area around a massive homeless outreach center:
I think it's horrible that people would prey on very vulnerable populations. It really is just so disappointing that one of our officers would prey on vulnerable populations. We are always working on behalf of those homeless people and Haven for Hope is still a place to go for any homeless person who needs resources.
Councilman Joe Krier:
We have very few bad apples in a barrel full of outstanding police and fire. But it's our job to get the bad apples out of the barrel as quickly as possible when they do bad things.
Sources said that it's likely that Luckhurst is heading toward arbitration and hopes to get his job back. As a terminated officer, he does not have access to a union representative, so he will only have his lawyer.
[image: screengrab]
Have a tip we should know? tips@mediaite.com