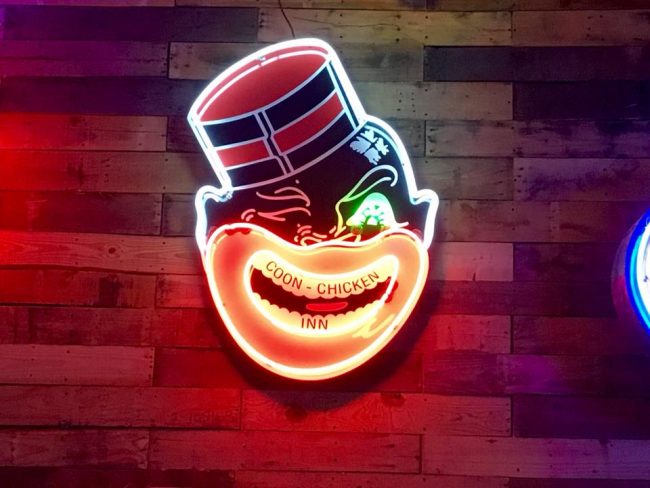 A restaurant in Lubbock, Texas has come under fire in recent days for a racist sign that is hanging up on its wall.
On Thursday, Cook's Garage responded after a person who attended a Christmas party at the restaurant noticed a neon sign of a black caricature emblazoned with the words "Coon Chicken Inn." After the person posted photos of the sign on Facebook, the owners of the restaurant posted the following explanation to its Facebook page:
As you can see above, the restaurant owners contend that they did not mean to offend anyone as the sign was meant to represent "Americana history." Highlighting that other racist collectibles featuring black caricatures are "highly sought after," they noted that the Chicken Coon Inn was an actual restaurant that existed and that featuring the sign is "preserving a part of history that should remind us all of the senselessness of racial prejudice."
After the Facebook response from Cook's Garage went viral and local station WLBT 3 posted a story stating that "some are calling" the sign racist, folks on Twitter reacted.
Anyone who claims this sign that says "coon chicken inn" isn't racist is probably a racist https://t.co/ecJH6DmDYO

— Josh Billinson (@jbillinson) December 16, 2017
*some.* it says "coon chicken inn." https://t.co/XcUbXTzQPk

— El Flaco (@bomani_jones) December 16, 2017
Is the Nigger Collard Green Castle racist? Or are these snowflakes just triggered? More at 11 https://t.co/k0WXXwKgSz

— Jamilah (@JamilahLemieux) December 16, 2017
No…seriously…

What about this ISN'T RACIST?

The joint is called 'COON CHICKEN INN', for God's sake. pic.twitter.com/JET0nsoCYu

— Rusty Redenbacher (@rustymk2) December 16, 2017
Alright. So, when I read the line "some are calling" I was expecting like something that could be INTERPRETED as racist.

Not literally "coon chicken inn"

are you guys fucking okay https://t.co/mwJU4A0RKF

— Blade (@theBladeee) December 16, 2017
These types of caricatures were created to poke fun at the facial features of African-Americans. The sign literally says, "Coon Chicken Inn." Is there no one at that restaurant who saw this was horribly racist?! Anyone?! https://t.co/Vm632YWGuQ

— Bryan Kennedy (@WTVQBryan) December 16, 2017
A 'commerical' for Coon Chicken Inn was featured in the 2004 mockumentary C.S.A.: The Confederate States of America, a movie that presented an alternate history where the Confederacy won the Civil War. The 2001 movie Ghost World also used a sign from the restaurant as a plot point.
[image via Facebook]
—
Follow Justin Baragona on Twitter: @justinbaragona
Have a tip we should know? tips@mediaite.com