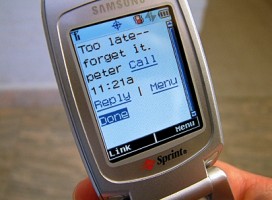 Recently, we heard buzz about a Facebook movie, preemptively titled The Social Network. Last week it was announced that another distinctly online entity would make its way in front of cameras. TextsFromLastNight is a blog whose sole purpose is to provide entertainment through a slew of embarrassing, raunchy, vulgar, and oftentimes hilarious visitor-submitted text messages theoretically "from last night." Last Thursday, it was revealed that Fox is teaming up with Adam Sandler's production company Happy Madison and producer Steve Holland to bring the uber-popular staple of every college student's procrastination tool to television.
In theory, the concept is almost flawless – the site gets an average of 4 million hits a day, an easy number to sell to producers eager to create a TV version of "a living document of twentysomething life in 2009." The lives of this social-media savvy and technologically dependent generation is indeed fascinating to observe in real life, and would at least generate curiosity as a TV series, but we anticipate a huge challenge in the translation.
The brilliance behind Texts From Last Night is that unlike things that try to genuinely and accurately portray the specific nuances of twentysomething life, it actually does, in a format that is original and pithy, and keeps readers hooked with its frequent updates. The site is comprised of simply, a list of worthy text messages generated by readers, identified only by an area code. And because the texts are all (we think) real tidbits of conversation amidst twentysomethings, it's improbable that a TV show will do it justice or portray reality to such a precise degree.
Not to mention that almost all of the material that fills the site is entirely inappropriate for cable. We'd like to see Fox try to create plotlines based on such morsels of debauchery as
(816): I didn't have a rubber, but my dick had a date with a clorox wipe after we finished. I think I'm in the clear.
Or
(305): We owe the rent and you're unemployed…you're in no financial position to flirt with cocaine addiction.
And as twentysomethings tend to hate when uncharted trends go mainstream, it would be a shock if we began replacing our blurry nights of sending raunchy texts with sitting in front of a TV watching too-old actors pretend to.
Have a tip we should know? tips@mediaite.com