Excerpt from the forthcoming book "All the Gory Details" by Eli Roth.  Not for reprint without author's permission. Republishing excerpts on websites is fine. Printable version here.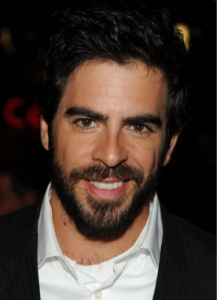 The nineties, while fun and wild at times, were spent in film school, then working on various film sets from 5:30 in the morning until 11:00 at night getting coffee or standing out in the freezing cold asking drug addicts in Tompkins Square Park to kindly keep their voice down.  In short, they sucked, by 1999 I had moved to Los Angeles and finally got my first directing break, co-writing, directing, producing and voicing a series of animated shorts with my friend Noah Belson called "Chowdaheads."  The shorts were to air on WCW Wrestling's #1 rated show "Monday Nitro," but the weekend before they were scheduled to air the CEO got fired, and the shorts were put on hold.  I had put every waking minute of my life into these shorts, and now they were just sitting on a shelf because of a regime change.  I was told to "sit tight" and "hang in there," but by the end of 1999 it was clear nothing was going to happen with them.  It was time to move on.
Then, in January of 2000, the phone rang. On the other end was an unmistakable Midwestern twang I instantly recognized.
"Eli, man?  David Lynch.  How ya doin', bud?"
I knew David from a research project I had done for him years ago when I was working for a theater producer in New York City.  I had written to David after I moved to Los Angeles, but had never heard  back from him.  I knew he was busy with his new TV pilot, "Mulholland Drive," but that was about it.  I had sent him a holiday card just to keep in touch, and much to my surprise, he called.  David wanted to talk to me about his new website, DavidLynch.com, and asked if I'd help him organize some ideas.  I went over to his house and had a "cup of Joe" and we chatted about the Internet.  David told me about his frustrations with the television networks, and how he wanted to film ideas for the Internet because it gave him total freedom.  He was also going to charge for his ideas, which was very revolutionary at the time.  People were not used to paying anything outside what they paid their service provider, but he argued that unless he charged he'd go bankrupt, and if the fans were getting good material they'd be okay with a monthly fee that was basically the price of one lunch.  David began spouting out these ideas, and I just started writing them down. 
And that's how it began.  Suddenly, I was producing shorts with him for DavidLynch.com.  We had a blast. I was so nervous, but with David you could do no wrong.  He was so nice and encouraging about everything, and he loved the "happy accident."  David taught me to focus on what's in front of the lens, not to fixate on what's in your head, for if you're too trapped in your own head you might miss something magical that's right there under your nose.  David wanted to shoot a music video for his band Blue Bob, for the song "Thank you, Judge" (which is available on DavidLynch.com)  We found a house in the valley and courtroom to film in, and he cast Naomi Watts as the ex-wife who gets everything.  The day before shooting,  David threw out that I was going to play Naomi's cheesy new boyfriend, which we all agreed was perfect typecasting.  So for the final shot, I put on a suit and sunglasses and held a cheap box of chocolates in one arm and Naomi in the other, smiling and waving to the camera.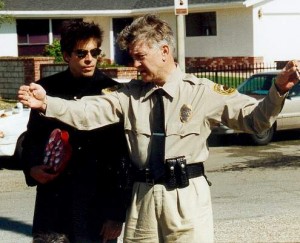 There are endless stories about working with David, and I got to sit with him and transfer "Eraserhead" onto hi-def, which was a treat.  David doesn't do director's commentaries, but I got to listen to him tell a few stories here and there, so it was like having a private commentary.   One day Marlon Brando came over to discuss filming a "tea party" in drag, but that never materialized.  It was as surreal as you could imagine, and after we said we wished we had filmed just that encounter since it was just so bizarre to watch Brando drink Snapple, eat a tomato, and talk about how he must have "very real breasts" for the segment.  I just listened and absorbed everything I could. I spent about four months with David filming these various shorts, all the while taking time to go to meetings with Noah at various networks to try and resurrect "Chowdaheads" as a half hour animated series.  The whole show was done in our Boston accents, so we were pitching it as "King of the Hill" but set in Massachusetts.
The closest we came was at MTV in February 2000, but were ultimately told that they were no longer doing animated shows.  We couldn't understand – "Beavis and Butthead" was such a huge hit and we felt like we had the next one, but they said they were now only doing this new thing called "reality" programming.  Animation, at least for them, was dead.  But thankfully there was this new craze flush with cash: the Internet.  Our agents set us up at a new site called Z.com that had millions of dollars from Wall Street investors.  The CEO loved "Chowdaheads" and wanted to continue it as a web series, but Noah and I said we would let them have it if they made our other show first – a stop-motion series called "The Rotten Fruit."
"The Rotten Fruit" was a "Davey and Goliath"-type idea that Noah and I dreamed up about a band of foul mouthed British hooligan fruit that looked cute and adorable but did horrible, violent, deviant things.  The idea was so bizarre that we actually went to World Art Supply and built the characters out of clay, then made a shoebox diorama to set them up in.  We drove around the diorama in the back of my 1984 Saab to meetings, often bringing execs out to the parking lot where we'd dance around the figures and do the voices.  This seemed really, really funny to us.  Amazingly, Z.com went for it, and gave us $40,000 to make a pilot.  This enabled me to hire additional animators and builders (I was one of the main animators even though I hadn't done stop motion since I was twelve) and spend money on cameras and a killer sound mix.  It was my biggest directing job to date, and in April of 2000 I spent 3 weeks in my friend Roy's garage animating the pilot episode with an animator I had worked with on "Chowdaheads" named David Candelaria.  "Chowadheads" was supposed to air on TNT, so we even though it never aired we had to tone it way down from the original idea, which was a series called "Massholes."  The internet brought us new freedom, the freedom to use any word we wanted.  Or so we thought.
Over the decade I kept a fairly detailed journal, so in an effort to not romanticize things or rewrite history, here are a few excepts of my life over the last ten years.  I removed or changed the names of studio execs I fought with and girls I dated to spare them the embarrassment.
>>>NEXT: Rotten Fruit in the Snake Pit
(Click here to see a photogallery and here to print.)
Have a tip we should know? tips@mediaite.com