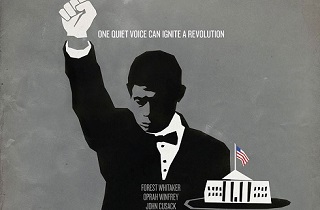 During a record-breaking Labor Day Weekend for Hollywood, Lee Daniels' The Butler led the way with an estimated $20 million over the long weekend, edging out boy-band One Direction's This is Us to become the first film of 2013 to hold the top spot at the box office for three consecutive weekends. With nearly $80 million in the bank, compared to its $30 million budget, The Butler is well-positioned to surpass $100 million at the box office, and catapult its director past its star into the top ten highest-grossing black directors of all time.
One Direction: This is Us edged The Butler over the three-day Friday-Sunday frame, but as Box Office Guru's Gitesh Pandya explains, that's not how the movie biz measures holiday weekends:
Moviegoers ended their summer by spreading dollars across a wide variety of films helping the North American box office deliver a record-breaking Labor Day holiday frame. An astonishing 26 different films grossed more than $1M over the Friday-to-Monday weekend with two of them making a legitimate claim to the number one spot. Traditionally, the holiday is judged by the four-day period which saw the popular White House drama The Butler spend its third consecutive term in the top position. However over the three-day Friday-to-Sunday period, the rapidly-eroding boy band doc One Direction: This Is Us was the leader. Regardless, the box office broke the old Labor Day weekend record set back in 2007 as the Top 20 grossed over $140M across four days.

The durable White House drama The Butler was once again the most popular draw in its third term with word-of-mouth continuing to take the film out to new audiences. The Weinstein Co. hit took in an estimated $20M over four days upping the cume to a robust $79.3M. The Friday-to-Sunday portion dipped by only 10%. Look for a final tally of about $120M making it the surprise winner of this year's big race between White House flicks beating out big-budget action pics Olympus Has Fallen($98.9M) and White House Down ($72.4M). Butler is the first film of 2013 to spend three weeks at number one. The last movie to threepeat was The Hobbit in December.
Aided by the long weekend, The Butler actually increased its take by 21.2%, when steady declines are the norm even for successful films these days. With robust awards-season buzz, the film also figures to enjoy brisk post-nomination business. The film traces the Civil Rights movement through the eyes of a White House butler played by Forest Whitaker, whose Cecil Gaines character is based on late real-life White House butler Eugene Allen. Whitaker is currently tenth on the list of top-grossing black directors, a position which he figures to relinquish when The Butler banks another $10 million or so. Here are the current 10 top-grossing black directors of all time:
[imageviewer id=1011]
Have a tip we should know? tips@mediaite.com