The Daily Beast is Buzzing With Solid Scoops and An Editor Who Knows How to Spread The Word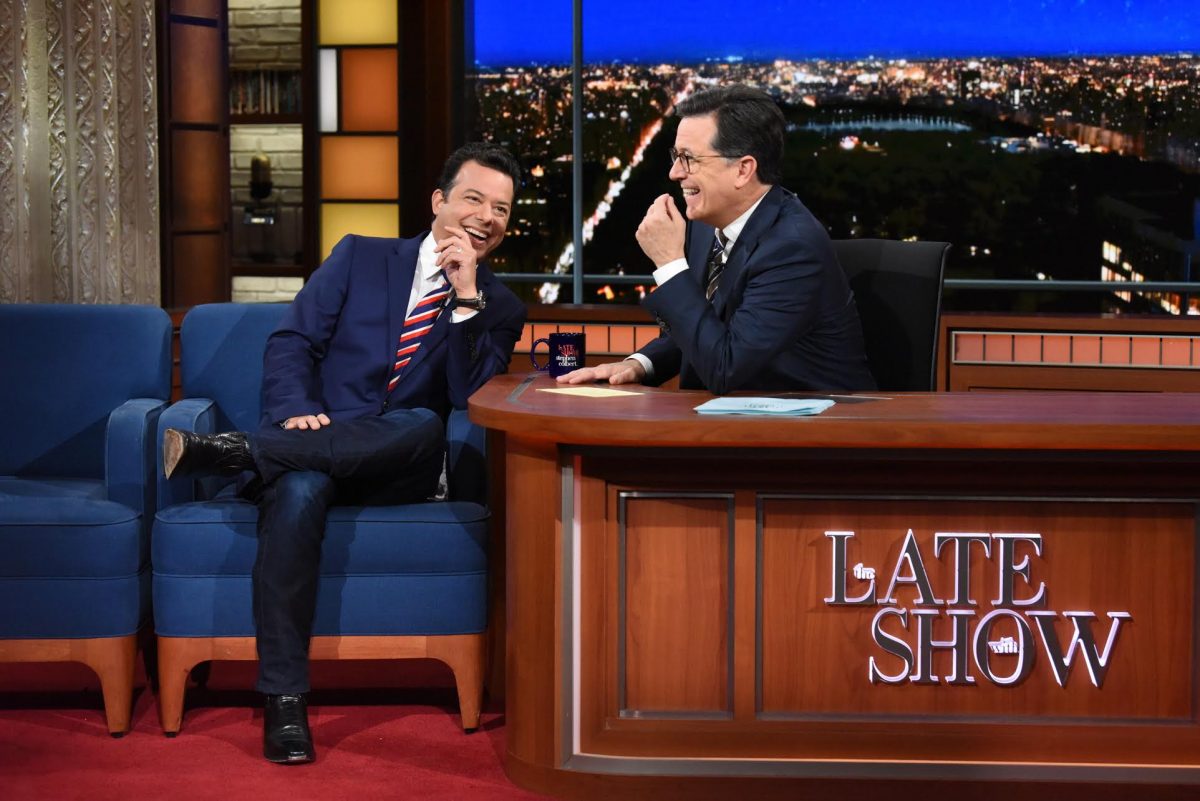 It's been more than four years since John Avlon, the former columnist and ubiquitous cable news commentator, took the reins of the Daily Beast from Tina Brown, its founding editor whose name was once considered key to the website's success but eventually became synonymous with the problems that plagued the online glossy.
In the time since, editor-in-chief Avlon has deployed a potent politics-and-pop-culture blend that has transformed the publication from hobbling website with constant rumors of its demise, to leading media staple with a defined sensibility that routinely rivals the reporting of the prestige press.
In 2013, Avlon replaced Brown, whose success reinventing Vanity Fair and The New Yorker belied her inability to make a digital outlet whir. At that time, a regular media parlor game included estimating how much money the Beast lost each year and how long its owners at IAC were willing to endure the financial pain.
"A lot of people thought we were dead men walking," said Avlon during an interview at the Daily Beast's offices. "And nobody thinks that today."
A surge in traffic — the website pulled in an average of 16.5 million monthly visitors in 2017 and has continued to grow its audience in 2018, according to comScore — and a spate of recent high-profile political and national security scoops have vaulted the Daily Beast to the top of the digital news heap. The website's social numbers are equally impressive, growing from 330,000 followers when Avlon took over to more than 2 million today.
"Pound for pound, it is an impressive operation," Washington Post media critic Erik Wemple told me. "As I see it, they do a few things well: they bang the phones, they don't always follow the same story everyone else is doing and they are fast."
"The Beast covers the country and culture in much the same way that the old Daily News used to cover the city," said Michael Daly, the veteran columnist who left the New York Daily News for the Beast. "It has that bounce."
It doesn't hurt that the Trump presidency manages to sit squarely within what Avlon calls the Daily Beast's "strike zone" of "politics, pop culture and power." Considering that the website was founded by Brown, (whose own fame was forged in the gaudy world of 1980s glossies, a period neatly coinciding with the myth-making of Trump the businessman) its tabloid sensibilities are conveniently arranged for this era.
During an interview at the Daily Beast headquarters, located in a Frank Gehry-designed building in Manhattan's Chelsea with commanding views of the Hudson, Avlon noted, "I'm really proud that we've more than doubled our audience since I've been editor in chief, and we've done it on a tight budget." How one defines "tight" is a subject for debate, but from all outward appearances operations strike as tight-er than the days of Brown.
"We've got a much leaner team on the field than we did before I was editor in chief," Avlon said. "I love Tina, and we are built squarely on the foundation that she created — the high-low ethos — but we've just had to do things in a much leaner, DIY way."
Cable news viewers will recognize Avlon's TV-ready looks and demeanor, identical to his on-air presence: bright white smile, solid tan, slick black hair swept back. He even talks in sound bites, and often doles out "mantras" that he sees as guiding pillars for the Daily Beast. They're also splashed across a number of the physical columns at the Beast's offices, as if to remind its reporters why they're there.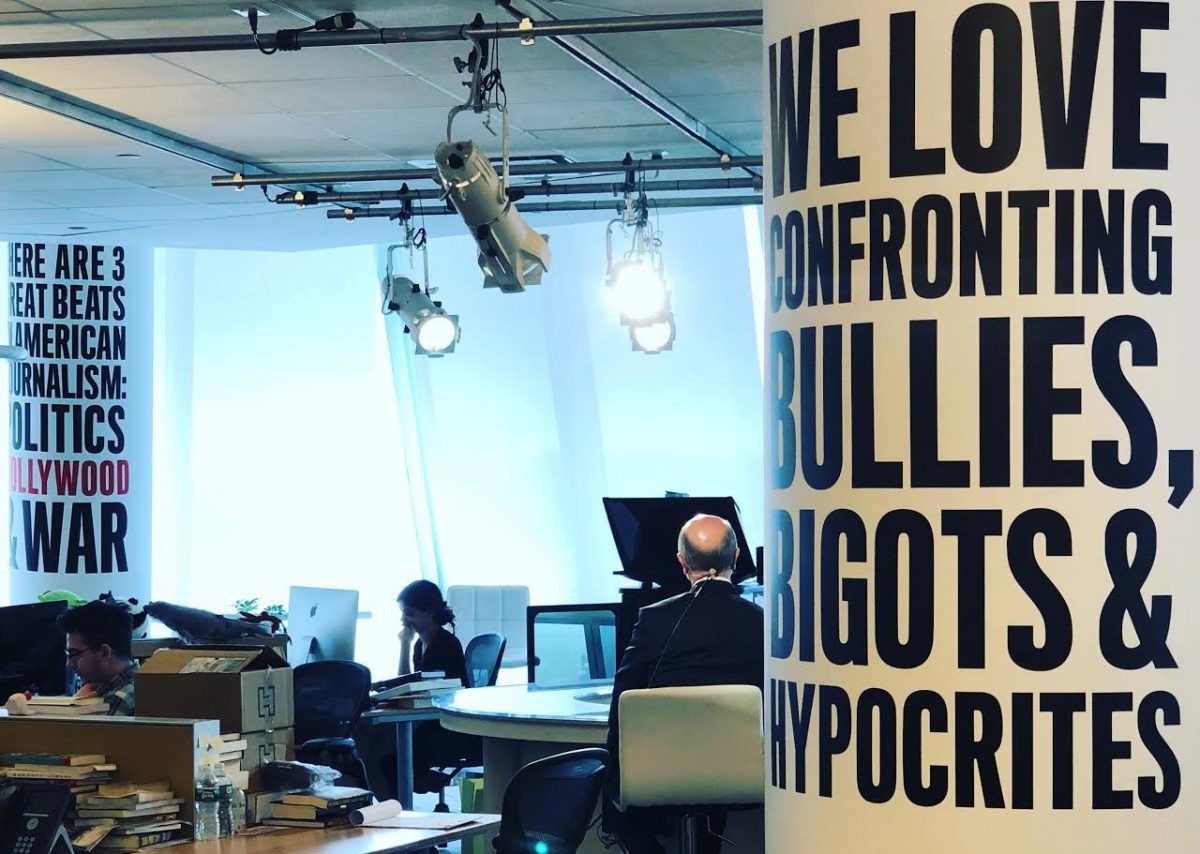 "We love confronting bullies, bigots and hypocrites," is one mantra Avlon takes seriously. Just this Sunday Avlon could be found on CNN tackling President Donald Trump for his Twitter assault on New York Times reporter Maggie Haberman: "Trump is proud about putting the bully back in bully-pulpit — and some of his supporters will no doubt make that a t-shirt at some point — but it diminishes the office of the president," Avlon declared emphatically.
Avlon's office walls are lined with posters emblematic of the aforementioned "strike zone." Most prominent are a framed Solidarity poster from the Polish elections of 1989 featuring Gary Cooper, and a stamp from a former Soviet republic featuring (Groucho) Marx and (John) Lennon. Avlon is a political animal by nature, but true to his strike zone, he makes sure to keep the pop in the Daily Beast's sights. Those sensibilities are carried over to the Beast's signature illustration style, the work of director of photography Sarah Rogers, with its jaunty collage and pop-art illustrations — often animated —topping every article.
From his office Avlon oversees a dynamic collection of young political reporters, accomplished national security reporters and other beat writers, as well as an ideologically diverse set columnists he credits for the success of the Daily Beast brand. Avlon notes that he focuses on hiring reporters who are cable news-ready themselves and have strong social media followings — "news with a human face," in his words — to help the Beast maintain relevance in an era of over-saturation for digital media outlets.
"Part of the way I built the team is looking for people who were hungry, but who also had a presence on air and a strong social media following," Avlon explained. "That's what I jokingly refer to as our advertising budget."
He pointed to some of the hires the Beast has made this past year: Spencer Ackerman, a prominent national security reporter, Sam Stein, a cable news-ready political editor who joined from HuffPost, Ira Madison, a prolific entertainment critic, as well as media reporter Max Tani and culture/tech reporter Taylor Lorenz. For scale: these new hires have more than 600,000 Twitter followers between them.
Avlon himself is omnipresent on cable news: every morning at 4:45 am, he wakes up and heads to the Time Warner building on Columbus Circle to appear on the six and seven a.m. hours of CNN's New Day. He's been a contributor at CNN for nearly a decade, and has guest hosted a number of its shows. After New Day, Avlon heads downtown to the Daily Beast offices, but regularly closes out the day with another hit: Don Lemon's 10 p.m. show CNN Tonight, often accompanied by his wife Margaret Hoover, a Republican consultant and fellow CNN commentator.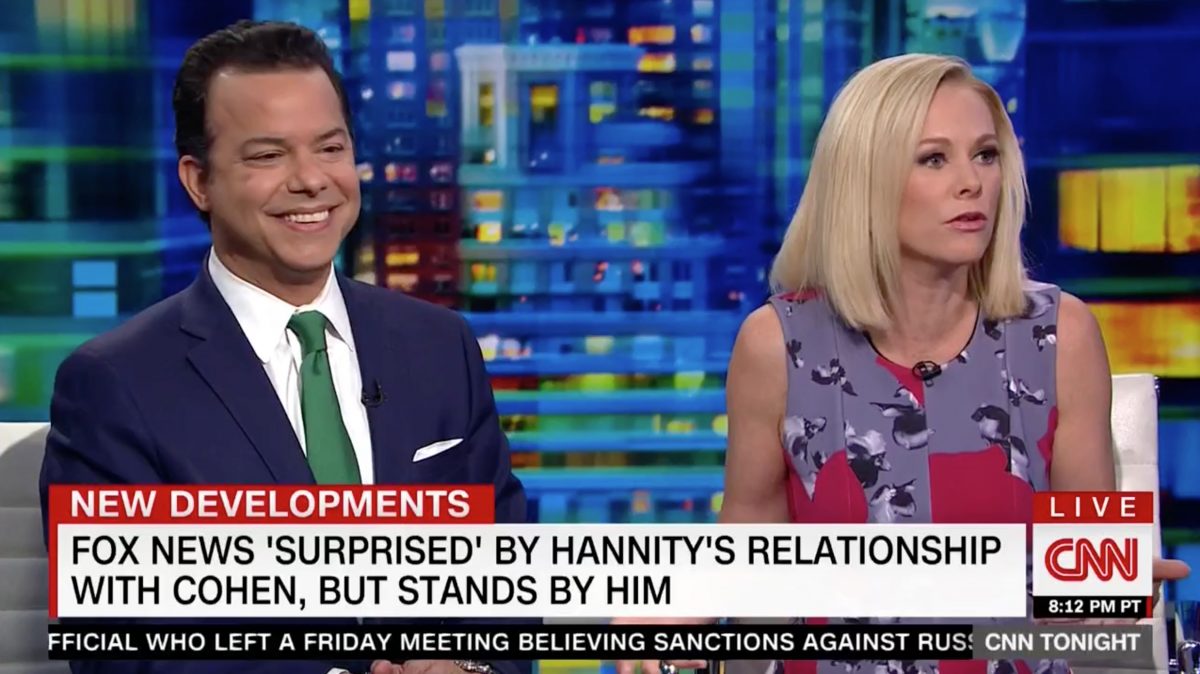 Michael Daly notes that when he first arrived the website was little known outside of New York — and Avlon changed that.
"Thanks partly to the magic of TV, you would start calling people who had heard of the place," Daly adds. "You'd call some doctor in Indiana and he goes, 'I love the Beast.'"
"Avlon came in under extremely difficult circumstances," Daly says. "Imagine it? Tina Brown has been there. You come in, what are you supposed to do? And he just did the work."
Avlon credits his TV career to his first appearance on Jon Stewart's Daily Show in 2005 to discuss his book Independent Nation — a tribute to centrism and plea against polarization that's remarkably relevant today — where he came out swinging with the polished rhetoric he's now known for. ("Are you reading this from a card or something?" Stewart asked him during the interview. "Because you're very good at this.")
Then a columnist for the New York Sun — after serving as New York Mayor Rudy Giuliani's chief speechwriter — Avlon joined the Beast as a writer in 2008. As editor, he seeks to pair serious scoops with an entertaining bent in the vein of political satirists like Stewart, Bill Maher and John Oliver.
"They're a gateway drug," he said. "They use politics and pop culture really intelligently, and they use humor, and then we're the harder stuff. There's no shame in entertaining while you educate, as long as you're making important stories interesting. So there's a lot of connective tissue between what they do and what we do, even though we are fundamentally original reporting and sharp opinion."
That juxtaposition of serious news with an entertaining twist is perhaps best expressed in the Daily Beast's White House coverage, notably by two young reporters Avlon plucked from ideologically opposed outlets to cover the new administration: Asawin Suebsaeng, formerly with the progressive mag Mother Jones, and Lachlan Markay, from The Washington Free Beacon. (The two have some 90,000 Twitter followers between them.)
The pairing of Suebsaeng and Markay reflects Avlon's approach for covering the Trump era: "I describe our political perspective as nonpartisan but not neutral," he said. "And what that means is we're going to hit both sides where appropriate, but we're not going for mythic moral equivalence on every issue." It's an approach Avlon has experimented with before, as he pointed out, with the hiring of Obama speechwriter Jon Favreau and Romney campaign strategist Stuart Stevens as columnists in the aftermath of the 2012 election.
And Suebsaeng and Markay have certainly delivered. Their diverse backgrounds make for diverse sources, who provide daily scoops peeling back the curtain on a hilariously messy White House (which they call the "omnishambles beat," borrowing an Armando Iannuci-ism denoting comical disorder) that often rivals reporting in The New York Times and The Washington Post, but with a cheek afforded by the Beast's tabloid DNA that appeals to a younger audience. Recently, the pair gifted us with the report that Chief of Staff John Kelly informed Secretary of State Rex Tillerson of his firing while he was on the toilet.
"There's an irreverence to their reporting," Favreau told me. "It doesn't have a lot of the suck-uppy tone of a lot of D.C. reporting. You're going to burn some bridges with the White House when you break a story about Rex Tillerson getting fired on the shitter. But it's a good story."
"The Daily Beast isn't trying to be the paper of record," explained Stevens. "They don't have that burden, which I think is very liberating."
"The Beast is perfectly positioned because of how we cover the news," D.C. Bureau Chief Jackie Kucinich said. "There is a strain of absurdity that sometimes courses through stories about this administration, and we have a way of bringing that out."
To those who would argue that Avlon's declaration that the Beast would play the role of the "loyal opposition" to Trump is just a clever way of cloaking liberal bias, Avlon reiterates his commitment to being "non-partisan but not neutral."
"Our disagreements with President Trump are rooted in policy and a clear-eyed view of his words and actions in office, not reflexive partisanship," he said. "Our columnists range from liberal to libertarian and we are not fellow travelers with the far-right or far-left. It all comes down to what Carl Bernstein calls the 'best obtainable version of the truth': independent- minded reporting without fear or favor."
That White House coverage, paired with some impressive national security reporting, has turned out Russia coverage — notably from reporters Betsy Woodruff and Spencer Ackerman — that rivals far larger newsrooms. Remarkably, a number of the indictments special counsel Robert Mueller doled out to Russians for election meddling were for operations first revealed by the Daily Beast. "That means we're making a positive difference," says Avlon.
Noah Shachtman, the Daily Beast's executive editor, agrees. "Reading that indictment was one of the most remarkable moments in my career," Shachtman, formerly the executive editor for Foreign Policy, says.
"We wanted to take some of the spirit of the old school New York tabloid and match it with the pace of digital journalism," Shachtman explained, noting that the website has avoided hopping on trends like the 'pivot to video,' a move now seen as a death knell for digital outlets. "What we did is really put an emphasis on scoop, scoop, scoop…That has really combined for what I think is the best read on the net."
The Beast's positioning as a modern tabloid and emphasis on hard reporting courses through its other beats as well, from culture and entertainment to tech. Taylor Lorenz's recent report revealing two Instagram-famous sisters were the daughters of controversial anti-Muslim activist Pamela Geller explored a niche in millennial culture-tech reporting that few outlets can cover with the same authority as the Beast. Lorenz's reporting, Avlon says, embodies another one of his Daily Beast mantras, and perhaps the most apt: "call bullshit and make important stories interesting."
"We made a strategic decision early on that we wanted to be the smartest tabloid on the web, and that means breaking news with original reporting," said Avlon.
The emphasis on scoops and buzzy reporting underpins Avlon's success with the Beast, as well as an urgency conveyed by the website's recently unveiled logo: a neon red design that evokes the glow of a television screen or, in Avlon's words, a reminder that "the Beast never sleeps." In the Trump era, where cable news personalities reign supreme and prestige media is panting to keep up, Avlon's Daily Beast might be onto something.
[Photo by Scott Kowalchyk/CBS]
—
Follow Aidan McLaughlin (@aidnmclaughlin) on Twitter
Have a tip we should know? tips@mediaite.com
Aidan McLaughlin - Editor in Chief