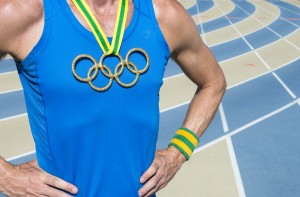 The Daily Beast came under criticism Thursday after publishing a story where a reporter used hook-up apps in the Olympic Village, accidentally outing certain athletes in the process.
In "The Other Olympic Sport in Rio: Swiping," Nico Hines visited the housing facilities for Olympic athletes and tried out dating apps, trying to see whether or not the Olympians' sexual appetites lived up to their legendary reputation. The most eager propositions all came from men on Grindr, a dating app for gay men.
While Hines never named names, he did name their sport and their country of origin. In some cases, that was all that was necessary to figure out who the person was. Some of the outed athletes hailed from countries where homosexuality can be punished with death.
The article received critical attention from liberal outlets like Slate, Vox, Jezebel, and the Huffington Post. The blowback on social media was also swift, with many angered by the entire premise.
How to make hot, gay sex with Olympians boring and scornful? Let a straight dude at the Daily Beast write it. https://t.co/13cFYzYMgn

— Alex Abad-Santos (@alex_abads) August 11, 2016
Straight dude cruises Grindr in Rio, then all but outs gay athletes. Who at @thedailybeast OK'd this crap? https://t.co/YYtrq0Ch1l

— Adam Goldenberg (@adamgoldenberg) August 11, 2016
Hi! This piece by @thedailybeast puts members of the LGBTQ community at serious risk and should be taken down ASAP: https://t.co/sE51qVPl4i

— Anne T. Donahue (@annetdonahue) August 11, 2016
this dickhead @nicohines went to Rio to cover the olympics and his angle was to bait gay athletes on grindr?https://t.co/gfaApflO4M

— Churlish (@Cryptoterra) August 11, 2016
marrieid straight dude downloads Grindr, dupes athletes, writes about it. garbage garbage garbage https://t.co/xI8jh5dybv

— Michael Gold (@migold) August 11, 2016
And the award for the worst ethics in journalism goes to: @NicoHines and @thedailybeast https://t.co/L1MovqSAYc pic.twitter.com/GEMR0A8wFN

— Alexander Quon (@AlexanderQuon) August 11, 2016
Eventually the Daily Beast edited the piece to make it more difficult to determine the gay athletes in question and added a note from editor-in-chief Jon Avalon:
There was legitimate concern that the original version of this story might out gay male athletes, even by implication, or compromise their safety. This was never our reporter's intention, of course. No names were ever used and some of the profiles described were of straight women. But there was a concern that even mentioning the home nation of some gay athletes could compromise their safety. We apologize for potentially jeopardizing that safety in any way. As a result, we have removed all descriptions of the men and women's profiles that we previously described.

The concept for the piece was to see how dating and hook-up apps were being used in Rio by athletes. It just so happened that Nico had many more responses on Grindr than apps that cater mostly to straight people, and so he wrote about that. Had he received straight invitations, he would have written about those. He never claimed to be anyone he was not, did not offer anything to anyone, and immediately admitted that he was a journalist whenever he was asked who he was.

Some readers have read Nico as mocking or sex-shaming those on Grindr. We do not feel he did this in any way. But it's up to us to deliver stories that are so clear, they can't be misinterpreted—and we clearly fell short of that standard in this article.
[Image via Shutterstock]
——
>>Follow Alex Griswold (@HashtagGriswold) on Twitter
Have a tip we should know? tips@mediaite.com