The Daily Caller Is Not Seeking a Hot Babe with 'Sex Appeal' to Model at CPAC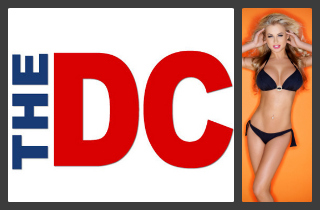 Despite what you may have seen on the Internets this morning, The Daily Caller is not seeking a hot bikini model with "sex appeal" to appear at next month's Conservative Political Action Conference (CPAC).
A suspicious Craigslist post made the rounds earlier after several Twitter users spotted it and made head-scratching gestures with their keyboards.

"Female Model Needed: CPAC Conference," reads the headline of the solicitation. And the body text: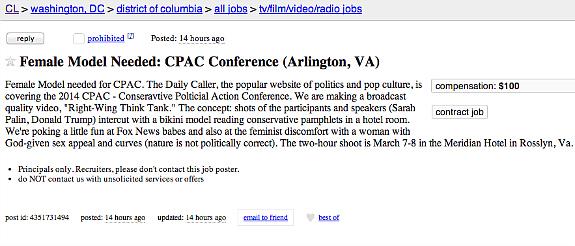 That does sound like something the Daily Caller would produce, right? But, alas, it's not real. So says the robot that controls the Daily Caller's Twitter account:
@SarahNEmerson @liz_gorman Yeah, we have nothing to do with this. @JGreenDC is probably trolling.

— The Daily Caller (@DailyCaller) February 27, 2014
(For those not in the know, @JGreenDC is a guy who sits around all day tweeting things.)
TheDC's managing editor Chris Bedford double-confirmed to Mediaite that it's a fake:
The tell-tale signs that it's a fake are 1) It isn't well written, and 2) It isn't funny. We like to think there's a style to our antics. This prank has none of that. Also, CPAC is in March. Bikinis would be gauche. Finally, if you ever do see us partying with bikini models, you can be damn sure we aren't paying them, as the only things we pay for are fine beer and cheap bourbon.
At the time of this writing, it looks as though the Craigslist poster removed The Daily Caller's name and changed it to Liberty Island, the new site created by Adam Bellow, son of Saul Bellow.
UPDATE: And then it was deleted.
Looks like someone's trying to have some fun trolling right-leaning websites today.
Next up? A Craigslist post claiming Breitbart seeks a model who looks like Sarah Palin to make out with a Donald Trump impersonator for a totally EXCLUSIVE video.
UPDATE: According to ThinkProgress reporter Emily Atkin, the Craigslist poster was occasional Daily Caller opinion contributor Mark Judge. She details how she found out:
Re: @Mediaite's story, I just got a call from the guy who actually wrote the "hot babe" CPAC model craiglist post. http://t.co/h8yQudkOer

— Emily Atkin (@emorwee) February 27, 2014
The dude's name is Mark Judge — he IS actually a writer for @TheDailyCaller but is making the video for a company called Liberty Island.

— Emily Atkin (@emorwee) February 27, 2014
Said he was up late last night writing a piece on Lucien Carr for The DC.. then just accidentally wrote "Daily Caller" in the CL post.

— Emily Atkin (@emorwee) February 27, 2014
Said @TuckerCarlson was pretty mad but "I would be mad too .. It's his site and all of a sudden there's a thing on the internet."

— Emily Atkin (@emorwee) February 27, 2014
Judge: "It was me, it was my fault, it had nothing to do with @TuckerCarlson." Said he still might make hot babes video for CPAC though.

— Emily Atkin (@emorwee) February 27, 2014
— —
>> Follow Andrew Kirell (@AndrewKirell) on Twitter
Have a tip we should know? tips@mediaite.com