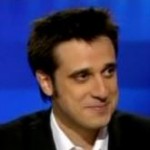 If the 60s were the decade in which Bob Dylan showed how rapidly he could evolve, every subsequent decade illuminated puzzling and contradictory sides of his talent and persona (family man, arena rocker, born-again Christian, hit-or-miss songwriter). By contrast, the Aughts were a decade in which Dylan stuck mostly to one character and one sound, with well-lauded results.
Here are the 10 essential moments from the Aughts Dylan.
1) Oscar for "Things Have Changed" (2001): Dylan kicked off the decade with this impressive metaphysical groove for the Wonder Boys soundtrack (2000), but its true significance would be achieved only after it was nominated for an Academy Award: On Oscar night, a touring Dylan performed via satellite from Australia, the camera zoomed in on his daring look and brand new pencil moustache for most of the song, making his performance a theatrical as well as musical triumph. Dylan was ready to look at us in the eye again. He won the award, and the statue became a permanent part of his stage act, always standing atop one of his amplifiers—a signal that the singer is not oblivious to his impact on pop culture.
2) Love and Theft (2001): Bob Dylan's first album since Time Out of Mind (1997) moved from the swampy textures of its Grammy-winning predecessor towards a sound much closer to that of his live band—an ensemble that easily jumps from rockabilly to country, blues-rock and meta-folk. It was also the record that would galvanize the Dylan persona of the rest for the decade: an atemporal roving musician that blended himself with his influences and the American culture; a poet speaking from the mountain he built by himself, where everything and nothing is sacred at the same time. Love and Theft was also the first record Dylan self-produced, something he would continue to do for the rest of the decade.
3) Masked and Anonymous (2003): In this movie (co-written by Dylan), the singer played a has-been alter ego of himself who, amid a civil war, is released from prison to perform at a sketchy benefit concert. The film was largely ignored by audiences and critics due to its diffuse plot, but somehow translated the universe of Dylan's songs into film, while reminding us yet again that he never saw himself just as a songwriter.
4) Chronicles (2004): The Aughts were the decade in which Dylan opened up like never before (see the No Direction Home documentary). In this first installment of what is supposed to be a trilogy of memoirs, he also fulfilled the promise of being a great prose writer, drawing stylistic comparisons to Mark Twain and becoming a finalist for the National Book Critics Circle Award. Oh and he wasn't even halfway through the decade yet.

>>>NEXT: She Wears A Push-Up Bra Just Like A Woman (…plus five more years of Robert Zimmerman)
Have a tip we should know? tips@mediaite.com