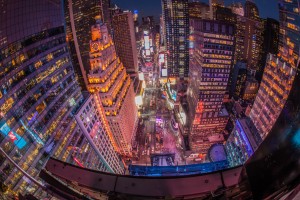 Tonight in New York City, the eyes of the world will be eagerly watching as just about every major television network will be carrying a broadcast of the ball dropping in Times Square. But with so many options and events happening, it can be tough to keep them all straight. Here's a quick survival guide to who's doing what where on your TV sets for tonight's New Year's Eve celebrations.
Dick Clark's New Year's Rockin' Eve with Ryan Seacrest
Dick Clark may no longer be with us, but the legendary host made his name synonymous with New Year's celebrations. Ryan Seacrest has taken over the legendary TV hosting duty annually, and on ABC beginning at 8 p.m. ET you can catch all the action. Joining Seacrest are hosts Fergie and Jenny McCartney, with live performances from Carrie Underwood and tons more.
NBC New Year's Eve with Carson Daly
Today show cohost Carson Daly will again be ushering in 2016 for NBC. Hoda Kotb and Kathy Lee Gifford will be begin their program of festivities at 8 p.m. ET, immediately followed by a New Year's Game Night hosted by Andy Cohen. The broadcast continues live from 30 Rock and Times Square at 10 p.m. ET with Daly and Gwen Stefani. Crooner Michael Buble also makes an appearance in the NBC Promo for the event.
Pitbull's New Years Revolution in Miami
For the party-minded crowd, it's hard to top Fox's offering with Pitbull and Diddy from South beach itself. Terry Crews and Wendy Williams will cohost the ball-dropping festivities live from Miami, and will be joined by an impressive array of musical artists including Earth, Wind, and Fire. The programming gets started from 8 p.m. ET – 10 p.m. ET, followed by a one hour break for local news. Pitbull's new Years Revolution will continue at 11 p.m. ET live.
All American New Year's Eve on Fox News
This one might just be the most unexpected New Year's Eve celebration of them all, and Kimberly Guilfoyle and Eric Bolling cohost the official Fox News festivities. As Mediaite recently reported, GOP frontrunner Donald Trump will be involved with the broadcast in some capacity. Bolling said, "Donald Trump is going to ring in the new year with us, and you're going to hear from a bunch more of the 2016 contenders. You definitely don't want to miss this New Year's Eve party with us." The party starts at 10 p.m. ET.
CNN New Year's Eve Live with Anderson Cooper and Kathy Griffin
The new spate of commercials for the CNN New Year's Eve celebration might win the award for best of the holiday. Kathy Griffin will join 360 host Anderson Cooper on CNN for coverage tonight. Viewers are encouraged to use the hashtag #CNNNYE to join in to the conversation on social media. Coverage begins at 9 p.m. ET on CNN.
Have a tip we should know? tips@mediaite.com