The Economy Today: Luxury Goods Are Flying Off Shelves While Discount Stores Hold Fire Sales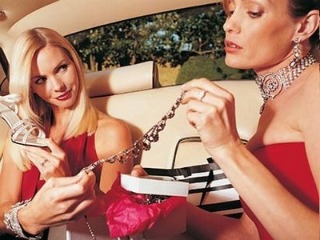 In the midst of all this depressing talk about the economy, there is, at least, a sliver of hope. And that sliver is plastered from top to bottom with Louis Vuitton logos. The very, very rich are evidently still very, very rich and, as the result, sales of luxury goods are going strong, with some retailers even marking up pricey items.
Fortunately, The New York Times keeps us up to date with what The Rich are up to these days. Writes Stephanie Clifford:
The rich do not spend quite as they did in the free-wheeling period before the recession, but they are closer to that level.

The luxury category has posted 10 consecutive months of sales increases compared with the year earlier, even as overall consumer spending on categories like furniture and electronics has been tepid, according to the research service MasterCard Advisors SpendingPulse. In July, the luxury segment had an 11.6 percent increase, the biggest monthly gain in more than a year.

What changed? Mostly, the stock market, retailers and analysts said, as well as a good bit of shopping psychology.
An example of the sort of shopping psychology to which they refer: One woman said she is willing to pay a high price tag for a "classic" items, but that she draws the line at purchasing anything flashy, conspicuous or trendy. A classic Burberry coat? Sure. Fluorescent orange Gucci thong that plays Gucci Mane when you sit down? Pass!
Contrast the luxury market with stores like Walmart that cater to the average American, however, and you'll see a striking difference. Some stores, for example, have had to divide multi-packs for customers unable to spend money on several products at once.
Suffice to say that there's something of a disconnect going on, with those with a lot of money — while not completely immune from the impact of the recession — definitely not feeling the pinch and, perhaps more importantly, the full force of the country's high unemployment rate. The spending habits chronicled in the NYT article just seem so at odds with the reality that the government and opinion news media have focused so much time and energy discussing economic woes and the state of the stock market.
Just take a look at last night's The Factor, for instance. Host Bill O'Reilly dedicated a good chunk of his show to the economy.
h/t NYT
Have a tip we should know? tips@mediaite.com