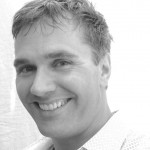 Last week in New York City, thousands of people in the advertising community were treated to 116 industry events and socials over 5 days thanks to the great staff and sponsors at Advertising Week. The caliber of speakers and quality of discussions were higher than most conferences charging over $1000, yet admittance to the vast majority of last week's events were free after a one-time charge of just $49. It was a benchmark conference in almost all areas from topics, format and logistics to speakers, moderators, and attendees. All areas, that is, except one: interactive advertising.
In almost every seminar the power of interactive advertising was discussed. Budgets are quickly flowing out of traditional forms of advertising like television, print and out-of-home and into online initiatives. Top CMO's and agency execs shared how technology has transformed advertising, how today's marketers can leverage social networking sites like Facebook and Twitter, and how we can all benefit from this shift away from a 1-way advertising push toward a 2-way dialogue with our audiences.
Oddly, each of these seminars started with both a verbal and signed warning that the taking of photographs and use of recording equipment were "strictly prohibited." The discussions happened inside rooms with no accessible WIFI signal to allow for liveblogging and there were few outlets and no charging stations for laptops and smartphones.
The result? A strange silence on the web for what should have been one of the most discussed events of the year. Advertising Week's rules severely limited the audience's ability to share content online, and the staff's lack of participation on the 5 social platforms they prominently linked to from their homepage didn't help.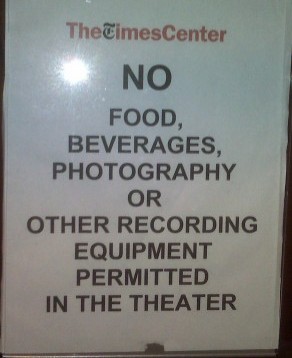 Who's doing it right? Look to industry leaders like Canada's Mesh Web Conference, the SXSW Festival and, not surprisingly, the Web 2.0 Summit. Look to Martha Stewart's upcoming experimental "TECH" show where every studio audience member is asked to bring a laptop, iPhone or Blackberry. And look to every brand or agency exec who spoke on stage at last week's exceptional conference, espousing the benefits of sharing and encouraging online dialogue.
Nothing can take away from the quality and success of Advertising Week for those who were able to attend. My personal highlights were Facebook COO Sheryl Sandberg's informative case studies, R/GA CEO Bob Greenberg's insight into the way forward, and Contagious Magazine Deputy Editor Jess Greenwood's wild ride through successful online campaigns. I was one of hundreds who enjoyed the hard work put forth by the Ad Week staff and contributions from the exceptional speakers. Here's hoping next year, thanks to the effective usage of interactive media, exponentially more people will be able to experience it as well.
Andrew Cherwenka is VP Biz Dev at Trapeze.com, an interactive marketing agency with offices in New York and Toronto. Find him on Twitter at @cherwenka.
Have a tip we should know? tips@mediaite.com