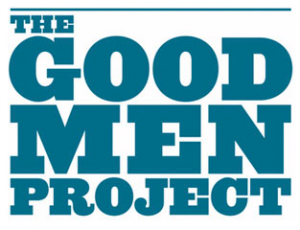 You think of "men's magazines" and you think of Maxim or Men's Health. Maybe you think of ESPN:The Magazine or GQ or even Out. You probably aren't thinking about articles that discuss how to be a good dad, what it's like for a transgender man to shave for the first time, or life inside Tennessee's execution chamber.
With the launch of The Good Men Project Magazine, Tom Matlack told Mediaite that he wants to "take the magazine model and completely change it for men and and Internet." The magazine is the latest incarnation of a project Matlack and his business partner–and fellow venture capitalist–James Houghton began with the book and companion DVD The Good Men Project: Real Stories from the Front Lines of Modern Manhood, which funds the Good Man Foundation
With an existing community thriving on Facebook and in-person gatherings, Matlack said the online magazine is a chance to build on that base. The  goal is to use "cool video and multimedia" to get men talking and thinking at the place where men spend a lot of their lives . . .  online.
The site includes stories by well-known journalists–like Benoit Denizet-Lewis–and lesser-known writers, including a story about the personal politics of taking your shirt off when you are a bodybuilder by Christian Matyi. There are also Q-and-As about being a man with writers A.J. Jacobs and Junot Diaz.
Matlack said the goal is not to be prescriptive because "men don't want to be on Oprah" or necessarily self-help since, as Matlack says, "Men's Health controls that market with stories about abs." Instead, he says the magazine wants to build on the book's focus on providing New Yorker-like storytelling about men.
In a press packet about the book, Matlack says the two groups of men who share their stories freely are men in recovery and men who are divorced with kids.  Notable in the magazine's debut is the wide-variety of stories that one usually doesn't see in men's magazines.  The stories are about straight men and gay men, white and non-white men, young and old.
"From the beginning, one of our basic premises was  we wanted to find guys who are completley different from us," Matlack explained. "We want to capture men's stories, whether they are about men covering a war, men in Sing Sing or transgender men.  We all think we are different, but in fact it's absolute bullshit. We are more alike than we know."
Social and new media has already provided magazine-like spaces for all types of demographics, from gays to conservatives, African Americans to geeks.  What's surprising is that the non-porn men's audience has largely gone untapped beyond narrow slivers focused around sexuality, health, or sports.  Urban Daddy has taken a broader approach, although it is inspired more by GQ or Esquire's "man about town" voice and focuses less on men, as men.
The Good Men Project–they desperately need an acronym–is trying to do something different.  While the debut could use a wider-range of voices beyond (sub)urban white guys, the variety of authors in the book suggests the magazine's staff can attract a wider-swath of writers and provide a space that's rare online: diverse groups of men talking about being men.
Have a tip we should know? tips@mediaite.com