Gay Pride Month culminates this weekend with Pride Weekend festivities around the country. Here in New York, the annual Pride Parade will march through lower Manhattan on Sunday, and this is a big one – Monday marks the 40th anniversary of the very first Gay Pride March in the city, which took place exactly one year after the Stonewall Riots in Greenwich Village.
In celebration of Gay Pride Month and in honor of this important anniversary, Mediaite contributor Robert Newman arranged a series of magazine covers – each "featuring an artist, personality, historical event, or publication of significance in gay history" – and released one per day throughout the month of June on his Newmanology facebook page. Here are some of the highlights from the collection: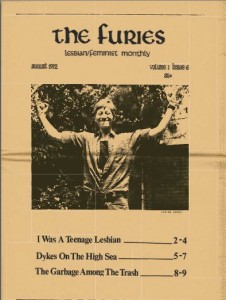 The Furies, August 1972. "Lesbian/Feminist Monthly"
This cover from The Furies is today's entry into the gallery. It only had nine issues, but the magazine was an important part of the lesbian feminist population growing in the early 1970s. In the first issue, the authors wrote that "lesbianism is not a matter of sexual preference, but rather one of political choice which every woman must make if she is to become woman-identified and thereby end male supremacy."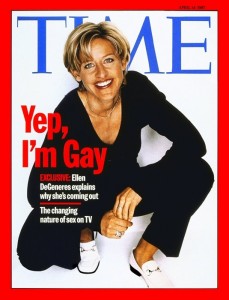 Time, April 14, 1997. Ellen DeGeneres says, "Yep, I'm Gay."
Probably the most widely recognized of all the self-outing magazine covers, Ellen's appearance on the cover of Time to announce she's gay opened the door for numerous celebrities to follow in her footsteps. Newmanology put together a side gallery specifically dedicated to the "Yep, I'm Gay"-style cover, featuring celebrities from Lance Bass to Albus Dumbledore.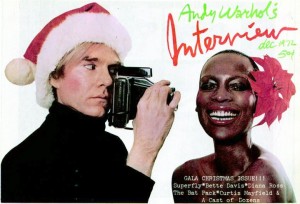 Interview, December 1972. Andy Warhol and model Naomi Simms.
Andy Warhol, one of the first openly gay American artists, started Interview in 1969, and the entertainment magazine has continued from its inception to feature gay and lesbian-themed content.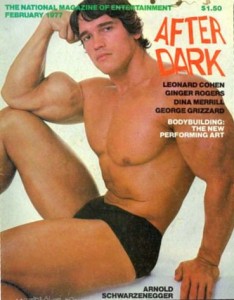 After Dark, February 1977. Arnold Schwarzenegger.
After Dark was not designated as a gay publication, but according to Newmanology, this 70s-era entertainment magazine "covered stories of interest to the gay community, carried ads for gay movies, bathhouses, clubs, books, etc., and had a liberal amount of beefcake and male nudity." Behind this cover, muscleman-turned-actor-turned-governor Arnold Schwarzenegger was featured in a 22-page photo spread, complete with frontal nudity.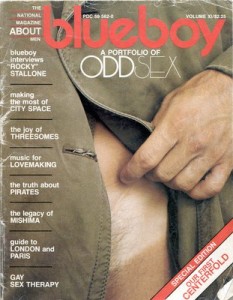 Blueboy, June 1977. "The National Magazine About Men."
Speaking of beefcake, this cover of Blueboy shows how softcore pornographic magazines for gay men developed a mainstream following in the 70s, much like straight counterpart Playboy. And, like Playboy, the magazine included content other than just nudie pics, like essays and interviews. As evidenced by her song "She Bop," Cyndi Lauper was a devoted fan.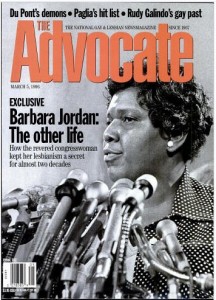 The Advocate, March 5, 1996. Barbara Jordan.
Barbara Jordan, the first African American woman from the South to join Congress who was known for her passionate speeches, never came out publicly. It was only after her death in 1996 that her lesbianism and companionship with another woman, with whom she shared a home, was revealed in this issue of The Advocate.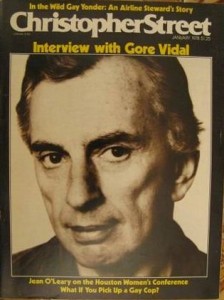 Christopher Street, January 1978. "Interview with Gore Vidal."
Newmanology writes that Christopher Street, which ran from 1976 until 1995, "was one the most important national gay publications in its early days, filled with discussions of issues of importance to the gay community, as well as fiction, essays, reviews, and art and photography." It was also the first gay publication with high-level graphics and design.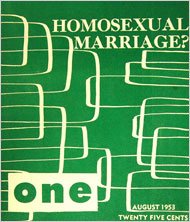 One, August 1953. "Homosexual Marriage?"
Remembering the time before the 1969 Stonewall Riots (when gay and lesbian publications were hidden, low-budget journals) Newmanology also has a gallery of magazine covers dating back to the 1950s. Publications like One were the victims of harsh censorship, and their editors and contributors were forced to adopt pen names to avoid being harassed or slapped with criminal charges. This issue of One, which included an article on gay marriage, was seized by the Los Angeles post office for three weeks.
Stories about gay rights might be popping up all over the media these days, but Newmanology's tribute to Gay Pride Month is a welcome reminder that gays and lesbians have maintained their presence in the media for decades, often forging new journalistic paths in the face of adversity. And that's something to be proud of.
This is just but a brief sampling – there are many more on the original collection, which you can check out here: Newmanology on Facebook
Have a tip we should know? tips@mediaite.com