The Hill Columnist Says 'Trump Has Won' Because Palin Brings an 'Ascending Forest Spirit'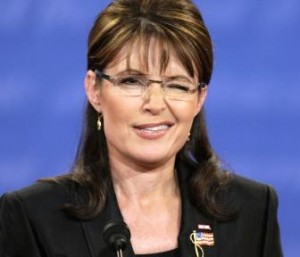 "The Republican primary has come to completion. Trump has won."
So writes The Hill contributor Bernie Quigley, who filed a breathless, ecstatic column Wednesday afternoon, rejoicing that Sarah Palin had endorsed Donald Trump, and arguing that Palin's decision not only handed the presidency to Trump, but will also push the country "into a new phase," and "will bring the century to its real beginning."
Per Quigley, the Messianic saga of Palin began in 2008, when Sen. John McCain tapped the then largely unknown Alaska governor as his VP candidate, representing a "systemic change" that would transform conservative politics into something that could be described as neither "conservatism," nor even "politics."
A sea change was occurring in America which would touch on virtually every aspect of American life, and she, coming out of the Alaskan wilderness, brought with it an ascending forest spirit.
Palin is the "rising heartland ethic of rustic energy and faith in the everyman and woman" made flesh, Quigley writes. She is the harbinger of a new era of "Emersonian rediscovery of who we are, free and new again in nature." The new American paradigm that she heralds is nothing short of "Andrew Jackson reborn; it is Jefferson reawakened."
The Establishment and the media, in their callow ignorance, mocked her. But her union with Trump Wednesday augurs our passage into a new and glorious epoch, for "the deal is sealed and Trump has pulled the sword from the stone."
Quigley's prophecy makes no allowance for a Republican upset:
Today, Trump wins Iowa, wins New Hampshire, wins South Carolina, wins everything. It could not be more clear: Donald Trump is Alpha Dog. One can even now barely recall the names of the others on the stage with him.
Pack it in, America. We're done here.
[h/t The Hill]
Have a tip we should know? tips@mediaite.com