Post In The Hill Calls Elizabeth Warren's Native American Heritage 'Correct In Mythical Terms'
Editorial Calls Warren's Native American Heritage 'Correct In Mythical Terms'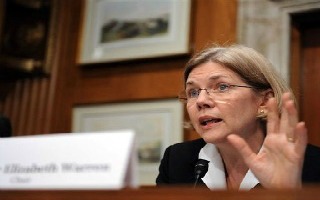 A post in The Hill from Monday heaps praise on Democratic Massachusetts Senate candidate Elizabeth Warren for her Native American heritage. But it is not her background in the traditional sense, but her upbringing in Oklahoma that qualifies her to be close to and reverential of Native American heritage. So, "Warren's claim to be 'part Indian' is correct in mythical terms," according to the post.

RELATED: Elizabeth Warren May Share Lineage With Militia Member Implicated In Run Up To Trail Of Tears
The piece in The Hill's "pundits blog" section of the website, by Bernie Quigley, claims it is common for those Americans who were raised in the Midwest "to claim Indian blood; that is, to wish it were there even if it isn't." Therefore, the debate over Warren's true heritage is immaterial.
Quigley writes that Warren should be praised for reintroducing Native American issues and heritage back into American politics:
We play Indian as children to call up the intuitive feminine. We name our cars after the noble and brave "Grand Cherokee." We call to the spirit of Geronimo going into battle. When we want our heroine true, like Katniss, we put a bow and arrow in her hand. "We are all Americans here," said Ely Samuel Parker, the Seneca Indian, aide to Grant at Appomattox, suggesting that with the bloodshed at Bull Run, Chickamauga, Chancellorsville and Cemetery Ridge, we sanctioned our place and belonged here with the Indians.
Quigley says that "in mythical terms" Warren is part-Native American. "Every old-school white Oklahoman is in this regard even if this in nominally not true," Quigley writes. She should be praised for bringing a "fresh, classical Americanism from the heartland back to us in Boston where we still have tendencies."
"We are lucky to have Warren among us," Quigley concludes. "She adds stock and substance."
Editor's note: This post has been edited since its original posting – Jon Nicosia
Have a tip we should know? tips@mediaite.com