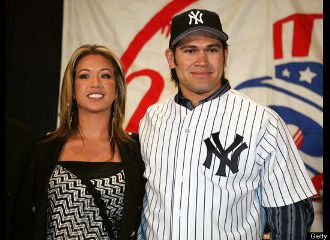 Hey sports fans! The Huffington Post is set to debut their HuffPo Sports section next month, but today they've got a preview for you.
Do you like sports? Do you like page views hot women voting for things? Then check out their new Red Sox-Yankees related post.
Here's the sports peg:
This weekend the Yankees face off against the Red Sox for three games in the Bronx, but the competition isn't just in the stadium. Rather, both teams have as much talent off the field as they do on in the form of players' wives and girlfriends.
You see, the Yankees and Red Sox have "talent" in the form of good looking women that the players date and marry. Featured in the poll – Johnny Damon's wife Michelle, Derek Jeter's "girlfriend (and rumored fiancée)" Minka Kelly and an awkward upskirt-like shot of Jason Bay's wife Kristen.
Now that you're ready for this weekend's A.L. East match-up, here's a little about what HuffPo Sports might actually be when it launches. Dan Shanoff has a great breakdown of what to expect, and what not to:
The key is to actively NOT try to be ESPN.com, NOT try to be Deadspin, NOT try to replicate Y! Sports Blogs and NOT try to be SB Nation. Let those sites win their categories — partner with them (see ESPN.com's local partnership with… Huffington Post Local). There is a very compelling space in the middle of those cornerstone properties. Perhaps not for long, but for now — and it's not like HuffPo would be starting from scratch.

Don't dismiss HuffPo as an online sports news competitor, just because that isn't what they have done before. If HuffPo has shown anything, it is that the company is VERY good at generating buzz and getting people to talk about (and visit) the site — 7.8 million people last month prove it.
—–
» Follow Steve Krakauer on Twitter
Have a tip we should know? tips@mediaite.com