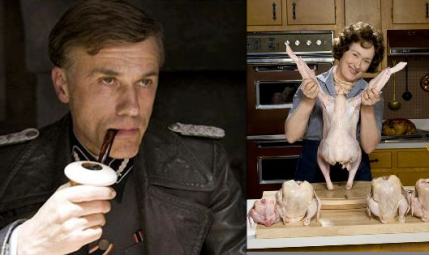 The 2010 Oscar nominations are being announced as we speak. We'll update this post as we go. Full list is here and Jonathan Fuhrman's smart reactions here.
Best Picture:
District 9,
An Education,
Avatar,
Hurt Locker,
Blind Side,
Inglourious Basterds,
Precious,
Serious Man,
Up,
Up In the Air
* First impression: A lot of these films are getting nods because of their lead performances (i.e. An Education, Precious) and because the Academy now has to choose ten pictures instead of five. Also, no Star Trek? Really?

Directing:
* "Avatar" James Cameron
* "The Hurt Locker" Kathryn Bigelow
* "Inglourious Basterds" Quentin Tarantino
* "Precious: Based on the Novel 'Push' by Sapphire" Lee Daniels
* "Up in the Air" Jason Reitman
* Will Kathryn Bigelow be the first woman to win a Oscar for direction?
Actress in a supporting role:
* Penélope Cruz in "Nine"
* Vera Farmiga in "Up in the Air"
* Maggie Gyllenhaal in "Crazy Heart"
* Anna Kendrick in "Up in the Air"
* Mo'Nique in "Precious: Based on the Novel 'Push' by Sapphire"
* Alas, neither of the kick-ass women from Basterds made the cut. Also, looks like Meryl Streep is not getting the double nod, for It's Complicated and Julie & Julia (just the latter for Best Actress). I haven't seen Nine so I don't know if it's interesting that Penelope Cruz was the only one of the power women cast to make the cut here.
Actor in a supporting role:
Christoph Waltz in Inglourious Basterds
Christopher Plummer in The Last Station
Matt Damon in Invictus
Stanley Tucci in The Lovely Bones
Woody Harrelson in The Messengers
* I think Waltz is the shoo-in here…if you haven't seen Inglorious Basterds yet GO NOW.

Actor in a leading role:
Morgan Freeman in Invictus
Jeff Bridges in Crazy Heart
George Clooney in Up in the Air
Colin Firth in A Single Man
Jeremy Renner in The Hurt Locker

Actress in a leading role:
Meryl Streep in Julie & Julia
Sandra Bullock in The Blind Side
Helen Mirren in The Last Station
Gabourey Sidibe in Precious
Carey Mulligan in An Education
* Will this be this year's most competitive category? Sandra Bullock has the edge coming out of the Golden Globes…but Meryl Streep as Julia Child is very hard to beat. Also, Helen Mirren! You have to love that three of these candidates are over the age of forty. Sidibe and Mulligan both gave amazing debut (ish) performances but I suspect that just being nominated will be considered award enough.
Writing (Adapted Screenplay)
* "District 9" Written by Neill Blomkamp and Terri Tatchell
* "An Education" Screenplay by Nick Hornby
* "In the Loop" Screenplay by Jesse Armstrong, Simon Blackwell, Armando Iannucci, Tony Roche
* "Precious: Based on the Novel 'Push' by Sapphire" Screenplay by Geoffrey Fletcher
* "Up in the Air" Screenplay by Jason Reitman and Sheldon Turner
* Nice to see In the Loop get a nod. One of the smartest films this year. But no Nora Ephron for Julie & Julia?
Writing (Original Screenplay)
* "The Hurt Locker" Written by Mark Boal
* "Inglourious Basterds" Written by Quentin Tarantino
* "The Messenger" Written by Alessandro Camon & Oren Moverman
* "A Serious Man" Written by Joel Coen & Ethan Coen
* "Up" Screenplay by Bob Peterson, Pete Docter, Story by Pete Docter, Bob Peterson, Tom McCarthy
Have a tip we should know? tips@mediaite.com