The Internet Can't Get Enough of Ivanka Trump's Neighbor Watching Protests Against Her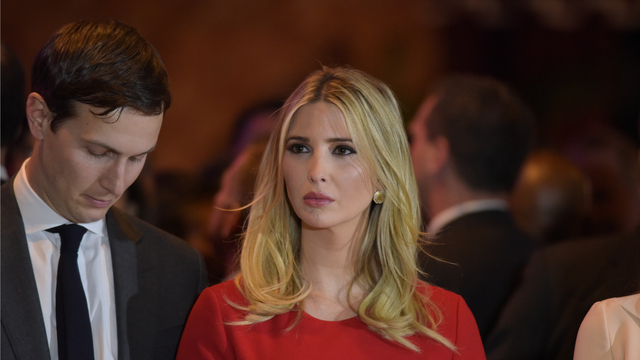 On Saturday night, an event called the "Queer Dance Party For Climate Justice at Ivanka Trump's House" was held outside the home she shares with husband Jared Kushner. The description for the event said:
The entire Trump Administration has shown a blatant disregard for our planet and it's inhabitants, like paving the way for the Dakota Access Pipeline displacing the Standing Rock Sioux Tribe. The reality is that the people most affected by the administration's bad climate decisions are our most vulnerable friends: our poor, working class, native, trans & POC siblings. We must put our bodies on the line for our earth and for all who depend on its resources.
According to the event's description, 311 people attended. One of those people was Ivanka Trump's neighbor, who stood on her porch in a fur coat and sipped wine, watching the protestors. She was photographed by The Daily Mail:
Je Suis Ivanka's Petty Neighbor pic.twitter.com/u3ymnvW31F

— Mitchell Sunderland (@mitchsunderland) April 3, 2017
Pretty much immediately, Twitter fell in love with her:
mood is Ivanka Trump's neighbor watching protests erupt: pic.twitter.com/7CrGyCt6eu

— Jason Rosenberg (@mynameisjro) April 3, 2017
The neighbor watching the LGBT protest in front of Ivanka Trump's house while drinking white wine is definitely invited to gay brunch. pic.twitter.com/Lum7pwuOsz

— Gabe Ortíz (@TUSK81) April 3, 2017
Ivanka Trump's neighbor just unlocked a new level of petty we didn't even know existed pic.twitter.com/kqoL0JgQhk

— khairy the comedian (@OMG_ItsKhairy) April 4, 2017
My spirit animal is Ivanka Trump's neighbor enjoying the protests. pic.twitter.com/f6EF6OBnhf

— Desi (@DesiJed) April 4, 2017
this photo of ivanka trump's neighbor watching the LGBT protest in front of ivanka's home while in a full length fur coat is definitely me. pic.twitter.com/oc8rnjsBoU

— dead boyfriend (@unsmokabIe) April 4, 2017
Ivanka Trump's neighbor came outside to cheer on queer protestors while drinking wine in a fur coat.

SHE IS MY SPIRIT ANIMAL pic.twitter.com/IUXZBeW9CZ

— Cole Ledford (@ColeLedford11) April 3, 2017
I aim for the level of petty of being Ivanka Trump's neighbor watching her house being protested in fur with a glass of wine. pic.twitter.com/KIV2Hq7jv3

— Eliel Cruz-Lopez (@elielcruz) April 3, 2017
I have never related to anyone more than Ivanka Trump's neighbor watching protestors protest in front of her house while sipping wine pic.twitter.com/VpqXpt7UT7

— claire woodard (@clairecIurr) April 3, 2017
Aesthetic goals: Ivanka Trump's neighbor sipping wine in a fur coat as a protest goes down ???️‍? pic.twitter.com/osvamoECkj

— C.J. Hᴀsᴡᴇʟʟ (@carpeydiem) April 3, 2017
On scale of 1 to 10, my level of petty is Ivanka Trump's neighbor putting on a fur coat, drinking wine & enjoyin ppl protest against Ivanka? pic.twitter.com/CqE3moQVef

— Live More? (@StunnaTella) April 4, 2017
@MikeSington Watching Anti Ivanka protest=energizing!! Neighbor on steps happily watching Anti Ivanka Protest,sipping fine?wearing furcoat = PRICELESS! ? pic.twitter.com/K9ojfGUULu

— Lucella-Thetis (@MsCella) April 4, 2017
Ivanka's neighbor watching the protesters across the street is truly the mood I'm tryna achieve in 2017 pic.twitter.com/MMEqLWn5Os

— Schmon Schmadams (@Lil_Jonny_Adams) April 3, 2017
I aspire to be 1% of this neighbor drinking wine & cheering on protesters outside Ivanka's house pic.twitter.com/ciMCwNWL4Z

— Victoria Aveyard?? (@VictoriaAveyard) April 3, 2017
[image via a katz / Shutterstock]
Have a tip we should know? tips@mediaite.com