The Internet Really Hates Rick Perry And His 'Gay Soldiers Are Killing Christmas' Ad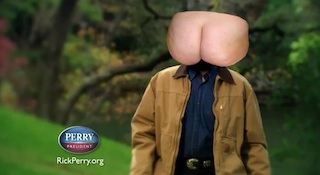 Well, that didn't go well, did it?
Yesterday, when Rick Perry released a new ad equating the horrible prejudice undergone by poor, alienated Christian children with that of American soldiers who had to, y'know, lie about about a basic fact of who they are, it was clear that it was a terrible ad. However, one might not have expected the pure amount of anger and derision Perry and his team have incurred. And now, only a day later, YouTube is already being filled with parody videos mocking the Texas Governor.
First off, there's been an active online movement to spread word about the ad and its offensive message. As such, the official YouTube video has grabbed more "dislikes" in a short period of time than nearly any video since the debut of Rebecca Black.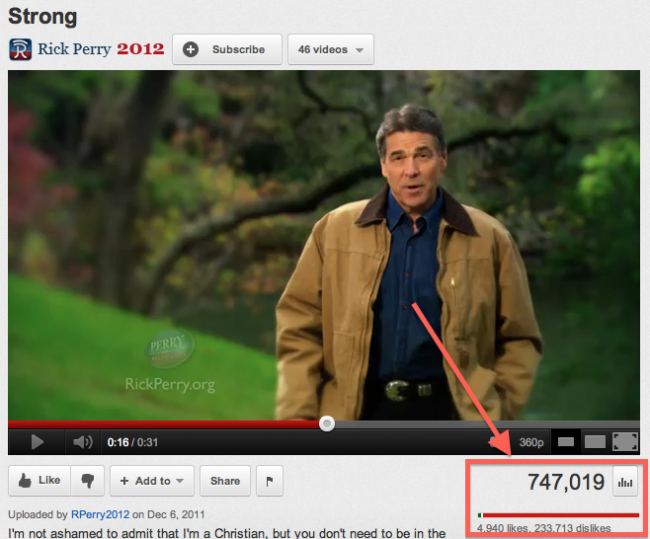 That's a lot of dislikes. Of course, when Fox News' panel show The Five could only find one of its titular hosts to defend the ad yesterday, should we be that surprised? Heck, there are reports that even Perry's top staff didn't like the damn thing.
RELATED: Krystal Ball: Rick Perry's Anti-Gay Ad 'Smacks Of Desperation', 'Race-baiting'
And, without missing a beat, YouTube comedians and sketch groups are on the case.
The Chicago-based group The Partisans produced the video "Weak, Man" (the title a parody of the Perry video's "Strong"). While the sketch may fall closer to "angry screed" than "parody," it does conclude with the brilliant line: "Rick Perry may believe in God, but I've seen his polls and God does not believe in Rick Perry." Ouch.
The Partisans make a lot of good points, but YouTuber Peter Coffin argued his case against the ad even more succinctly in this popular video entitled "Rick Perry is an Ass."
Tumblr's joined in on the Perry bashing with a blog, Rick Perry's Unpopular Opinions, which is nothing but animated GIFs showing Perry sharing his, well, unpopular opinions: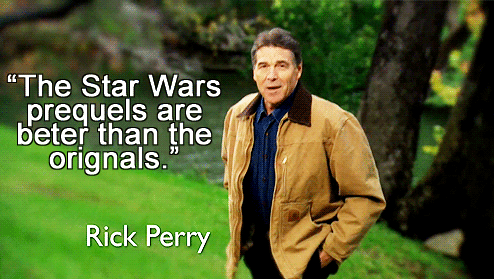 The enormous reaction Perry's ad has received is similar in size to the one garnered by Herman Cain's infamous smoking ad with Mark Block. But, there's a difference. People just thought that ad was crazy and awful in a slightly endearing way. Perry's ad, with its clear homophobic implications, is awful in a hateful way. So, while the numerous parodies of Cain's ad (like Stephen Colbert's pitch-perfect mockeries) were goofy, the Perry jokes are much angrier in nature. Basically, Perry's ad has turned him into a combination of Mark Block and Lt. John Pike.
So, yeah, like I said at the beginning of this post; this did not go well.
Well, at least there's nothing in the video to completely ruin the message contained within and make him look even sillier than he already does.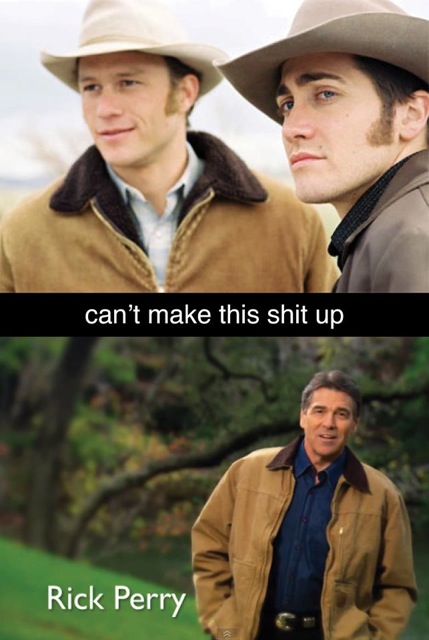 Have a tip we should know? tips@mediaite.com