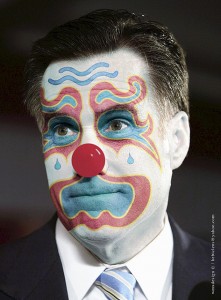 Since he last held a sustained lead in the Republican primary polls, way back in the summertime, there hasn't been a whole lot of good news for establishment candidate Mitt Romney. However, according to Politico's Patrick Gavin, there is one area in which Romney is defeating his rivals handily. Gavin reports that the former Massachusetts Gov. is head-and-shoulders above the competition when it comes to mentions by late-night comics. Current frontrunner Newt Gingrich is running a distant 5th.
His front-runner status may be in danger, but one thing is clear: Mitt Romney is still winning late night.
HighBeam Research, a firm that tracks television mentions, crunched the numbers for POLITICO to tally how often the GOP candidates have been cited on the late-night laugh circuit and found the former Massachusetts governor is still ahead of his competitors. That includes fast-rising Newt Gingrich, who has yet to see his remarkable boost in the polls translate into making him the butt of more comic barbs in the wee hours. But that might be just around the corner…
While this doesn't automatically sound like good news, Romney's dominance of the late-night yuckmeisters is something of a testament to his consistency and staying power. Past flavors-of-the-month Herman Cain, Rick Perry, and Michele Bachmann were good for clusters of concentrated tomfoolery, but Romney has outlasted them all, both in the polls and in late-night monologues.
They say there's no such thing as bad publicity, either, and while most people wouldn't strive for this particular honor, humor does have a humanizing effect on politicians. Such a consistent stream of jokes could also have the effect of inoculating Romney against well-worn themes like his flip-flops.
The news isn't all good(?) though, as Gavin also reports that, since November 1, Herman Cain leads that same study, followed by Rick Perry, then Romney. Even when it comes to being a punchline, it looks like Romney still can't catch a break.
Also worth noting is that the study measured mentions of the candidates by Jay Leno, David Letterman, Jimmy Kimmel, Jimmy Fallon, Jon Stewart, Stephen Colbert and "Saturday Night Live."
Conspicuously absent from that list is the great Conan O'Brien. Oh, how the mighty have fallen.
Have a tip we should know? [email protected]