Trump's Carrier Deal Not the Job Saver It Was Hyped to Be: 'Jobs Are Still Leaving'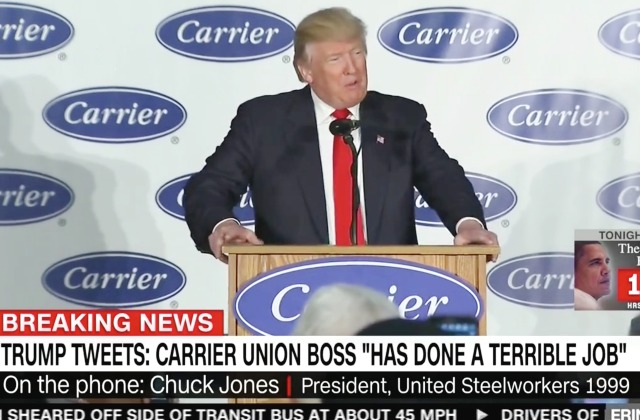 A few weeks after shockingly defeating Hillary Clinton, then-President-elect Donald Trump made news by negotiating a deal — along with VP-elect and Indiana Governor Mike Pence — to supposedly save hundreds of jobs at a Carrier plant in Indianapolis. The deal gave the parent company a $7 million tax break in exchange for Carrier supposedly agreeing to retain around 1,100 jobs at the plant rather than send them to Mexico.
However, flaws in the deal were discovered almost immediately. Union leaders pointed out that many of the jobs being retained were never scheduled to move anyway, as they were engineering and tech positions. The real number of manufacturing jobs saved wasn't over a thousand, but actually 730. This meant roughly 600 workers were still going to be laid off within months.
And those layoffs are now hitting the plant — and many of those workers feel like the whole thing was just a political bait-and-switch.
The president of the local union told CNBC that they were still losing tons of jobs and that the promises made by Trump when he came to the plant haven't been kept.
Nearly seven months later the deal has not worked out quite as originally advertised, and the landscape has barely budged.

"The jobs are still leaving," said Robert James, president of United Steelworkers Local 1999. "Nothing has stopped."

In fact, after the layoffs are complete later this year, a few hundred union jobs will remain at the plant. But that is far different from what then-President-elect Trump said just three weeks after the election.
During his speech in early December announcing the deal, Trump not only promised that 1,100 jobs would be saved, he claimed that the company was going to reinvest millions of dollars into the facility. However, since then, the CEO stated that the money would go towards automation that would end up leading to fewer jobs at the factory. In James' opinion, he doesn't "see Carrier hiring anytime in the near future."
Meanwhile, the company has said they will offer those being laid off additional jobs in other areas of the country if they are willing to relocate. However, the union states they've heard nothing about those jobs but have received notifications that the first round of layoffs at the factory will take place next month. The next round will take place three days before Christmas.
[image via screengrab]
—
Follow Justin Baragona on Twitter: @justinbaragona
Have a tip we should know? tips@mediaite.com