The Julian Assange Vanity Project: Wikileaks Auctions Lunch With Imprisoned Leader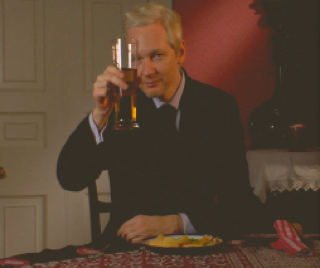 Wikileaks, the secretive international organization that took 2010 by storm with its thousand-page document dumps and the erratic behavior of its leader, Julian Assange, seems to be strapped for cash again. And, as they have many times before, they are trotting out Assange out to sell his charm to the highest bidder. The Washington Post is reporting that Wikileaks is auctioning off lunch with Assange in London before a speaking engagement, now going for about €600.
While Wikileaks has hosted speaking events previously, this event will feature– for those willing to pay– lunch with the controversial leader beforehand, alongside a bizarre bedfellow: Marxist academic and former Slovenian presidential candidate Slavoj Zizek. Zizek has made a career of making statements even more outrageous than Assange's– take, for instance, his declaration that only foreigners should be allowed to vote in American presidential elections— so if nothing else, the lunch and subsequent talk are guaranteed to deliver a requisite dose of madness. The three-hour lunch is scheduled for July 2 and the discussion topic will be the impact of Wikileaks on the media and political landscape.
While the Wikileaks financial operation has always been secretive, the organization has regularly noted that its leadership works voluntarily and that it subsists only on donations from supporters. Wikileaks.org has maintained pleas for money adorned with a mischievous-looking Assange on their page, and their "Support" page insists donations are imperative to their survival. The little information they do release is a mixed bag: Wikileaks was rejected by several grant organizations and had their funds frozen last December by PayPal, MasterCard, Visa, and Bank of America, among others. On the other hand, Wikileaks has revealed that the received about $800,000 in donations between December 2009 and July 2010, and in the same report boasted having around $200,000 in expenses a year but hauling in around $1 million, suggesting Wikileaks suffers no serious want of financing.
Generating money for Wikileaks is, of course, only half of the story of this auction. The other half, which Assange has never been shy of making paramount, is the former hacker and nominee to Time's Person of the Year award touting his celebrity bona fides. Assange's career is one of erecting a mythology around his person– from the horror stories about abusing cats to his short-lived career as a Swedish tabloid columnist to his bad behavior on Twitter, CNN, and the Guardian. The seeds of his eccentricity were fast germinating when he was arrested for "sex by surprise" last year and have since blossomed an existentially vacant cult of personality even the Kardashians would envy: Facebook pleas, book and movie deals, seasonal photo shoots, rapping gigs, and, yes, even dinner auctions. The last dinner auction didn't even feature Assange in the flesh but, rather, a video message one could pay to receive.
Sure, Wikileaks benefits from having a high-profile lightning rod to attract funds and deflect criticism, but for Assange it is quite clear that he is getting paid in a far more valuable currency: attention. Last December, when his newly-minted Forbes portraits debuted on Wikileaks proper, it appeared he was venturing into the realm of self-objectification in a way that few men in politics do– either a worthy or regressive endeavor, but at the time it was too soon to tell. Far more than objectification, however, this latest stunt demonstrates a willingness not to objectify himself, but to cross the threshold into the genre of self-idolatry typically reserved for public officials. Who else hosts lavish dinners to raise funds for their ideologically-driven publicity machines besides public officials, the people out of whose dirty laundry Assange has built a stairway to international recognition? That Assange has begun to inhabit the social space of the people he most publicly hates should come as no surprise– whittling away at the powerful until they lose their grip on the media consciousness naturally creates a power vacuum clamoring for new egos and even more hubris to feed on. Assange is merely doing his part to perpetuate the system he claims to detest.
Where Assange's thirst for attention will end is anyone's guess, and as long as he is indulging this vice with activities like discussions with the equally-bizarre Slavoj Zizek, only the media stands to win from this. But with every publicity stunt Assange hosts to sell the caricature of himself that the media wants to buy, he risks reducing Wikileaks to a vanity project with little ideological substance and only the projection of his budding megalomania as its end goal.
Have a tip we should know? tips@mediaite.com