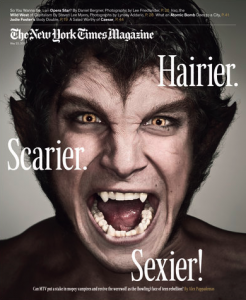 Here at Mediaite, we like to give credit where it's due and point out when those working within this strange little media bubble are producing good work. Such is the case with The New York Times Magazine, which, we've happily noticed, has experienced a revitalization under the watch of editor Hugo Lindgren.
Lindgren, for those unfamiliar, has been in the business for quite some time, having previously worked in editorial positions at New York Magazine and George in addition to acting as executive editor of Bloomberg Businessweek. Lindgren was named editor of The New York Times Magazine in September 2010, replacing Gerry Marzorati, who had been at the magazine's helm for seven years.
Shortly after coming aboard, Lindgren shared his plans for the magazine, which included new features and a whole new look. And, in our opinion, he delivered. A look through any of Lindgren's columns from "The 6th Floor" reveal an editor who is excited about his work, and proud of his magazine's content, be it a brief rundown on his weekend reading or a collection of stunning photographs.
Oh, and, for the sake of encouraging creativity and stifling eye rolls, he's also taken it upon himself to come up with a list of words and phrases his writers should avoid when crafting their stories.
We reached out to Adam Moss, New York magazine editor in chief, where Lindgren worked as his second on command, and a former editor at The New York Times Magazine. "I'm really liking what my old friends and colleagues are doing over there," he told us. "It's exciting to see how the magazine evolves."
One major factor in the magazine's continued success is its design director, Arem Duplessis. In June of 2009, the magazine underwent a redesign, introducing a smaller product with a streamlined, more modern aesthetic. Six months after the magazine's new look was revealed, Duplessis gave SPD a refreshingly in-depth and candid interview about the process. Here, he tackles the "Questions for…" section:
Our readers are very passionate about this page. We found out the hard way by introducing a "cinematic approach" to the photography. Seems readers missed seeing the feet of the subject and wanted the old format back. We accommodated that request, and of course, I heard complaints asking why we abandoned the new format. Seems some people took a liking to it. If you try and please everyone, you lose every time, as we all know.
(The entire interview is worth a read, especially if you're a design or typography nerd.)
Have a tip we should know? tips@mediaite.com