The Life of Kanye: On Top of Everything, West's Album Pirated Over 500,000 Times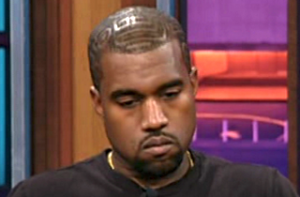 The last few days have been a rollercoaster ride for Kanye West. Between music, fashion, and debt, the father of two has had a lot going on.
Last week, he debuted his latest clothing collection, Yeezy Season 3, and his new album, The Life of Pablo, to generally favorable reviews in what must have been a major moment for him as he sold out Madison Square Garden to do it. Rumors came out that he didn't pay his models and he got major blowback and a possible GRAMMYs diss because of a certain line in a certain song about a certain pop star, but West has courted controversy for years and seemed unfazed, continuing to promote TLOP.
As the week went on, however, West's antics on Twitter — which have been bizarre for a long time, admittedly — got more unhinged. In between tweeting about the album, the always-opulent rapper began claiming that he is in debt. We're talking major debt. And, to remind you, we're also talking about the man who doesn't buy his wife bouquets, but rather, entire walls of roses.
I write this to you my brothers while still 53 million dollars in personal debt… Please pray we overcome… This is my true heart…

— KANYE WEST (@kanyewest) February 14, 2016
Now, this morning, only two days after publicly begging Mark Zuckerberg — who honestly has enough problems right now — for $1 billion, West went off on Pitchfork for rating TLOP 9/10 instead of 30/10 (no joke). As this was happening, news broke via the BBC that the highly rated album has been pirated over 500,000 times.
The debt claims and rumors of unpaid labor are starting to make sense, no? By making his album so inaccessible on Jay Z's streaming service, TIDAL, West set himself up to lose major cash on this long-anticipated release.
Maybe when West rapped about signing a prenup and avoiding gold-diggers in 2005, he was referring to himself. Kim Kardashian West should have signed a prenup. It's something that she needs to have because when he leaves her ass, he's gonna leave with half.
Unless he actually becomes president in 2020. On a presidential salary for four years, he could at least get his debt down to $51400000.
[image via screengrab]
For more from Lindsey, follow her on Twitter.
Have a tip we should know? tips@mediaite.com