The Man Sporting Many, Many Hats: An Interview With CNN's/ESPN's/ABC's LZ Granderson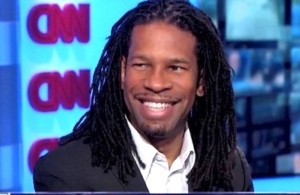 We're a nation who likes to put people in boxes. Race, gender, even occupations. The thought process around the last part of that triad is simple: If you're very good at one thing, you can't possibly perform on the same level of another.
This philosophy is rampant in some cable news executive offices as well when it comes to deciding what to do with prospective talent: If you only know politics, you'll only be hired to talk politics. If you're a legal expert, don't even think you'll be going on the air to discuss anything else. If you're a sports guy, stick to fields, courts, courses and rinks… because you can't possibly have any depth beyond that. And besides, it's all about branding… or something.
I've never been much of a fan of that approach for obvious reasons, having once been a sports producer (Time Warner's NY-1) and sports columnist and pundit (FoxSports.com, NBCSports.com) before jumping into media, political, entertainment, and political media entertainment commentary here. Expertise is vital in any business, sure… and to truly own it in multiple arenas is as tough as it is rare.
But folks like that do exist in the industry, albeit a very select few. The most notable — currently on hiatus — is Keith Olbermann: A sports (and especially baseball history) aficionado who also happened to be MSNBC's top-rated political host for many years before returning to ESPN. Chris Cotter is also someone who made the seamless jump from sports (SNY here in New York) to business reporting (Fox Business) back to sports again (ESPN). But to do both simultaneously for different networks and on a national level? That's absolutely unheard of… unless you're CNN's/ESPN's/ABC's LZ Granderson.
I recently conducted a Q&A with the 44-year-old Detroit native with the original intent of solely talking about this career balancing act. But upon learning more about him, there are so many levels to his story outside of just having a very active and diverse print, podcast and TV schedule… as you'll learn here in my Five Questions for LZ Granderson (my notes in parenthesis):
ME: Unless I'm missing something, you appear to be the only pundit out there who is offering analysis on a national level for politics, cultural issues and sports. And you're doing so on networks from ESPN to ABC to CNN, all while serving as a senior writer for ESPN the Magazine, as a CNN.com columnist, as an ABC contributor and the co-host of ABC Digital's Strait Talk with political analyst Matthew Dowd… all while hosting another show on ESPN360. To put it lightly, that's a lot to keep up with — particularly in today's world where things move so fast. How do you do it?
LZ GRANDERSON: I don't sleep much and both my jump shot and (tennis) serve have gone to shit. I still play both sports but I know my confidence is not where it once was because I don't play as often as I used to. And that's how I manage to stay knowledgeable about politics and sports–I sacrificed other things. My bosses are extremely accommodating — John Skipper with ESPN, James Goldston with ABC News, Jeff Zucker and his predecessor Jim Walton at CNN — and readers and viewers believe in me. Plus I'm fortunate that my husband (Steve Huesing) is a busy exec and supportive of my career. I also don't have parent teacher conferences or youth soccer to balance because my son is in college (Granderson and his now-ex-wife were married when he was 21 and divorced at 25). I still do a lot of my own reporting so I attend games/ matches, political rallies, cultivate relationships, etc which require a great deal of travel. I use that time to read and write.
ME: You were once a practicing Evangelical Christian. As you mentioned earlier, you're also gay. After awhile, you once said you realized it (Christianity) wasn't working for you in a traditional sense. Are you still a churchgoer and what's your message to gay Christians who may feel ostracized?
GRANDERSON: I was a youth director at two different churches before I left ministry to go to graduate school. Before that I tried to "pray the gay away" as so many LGBT of faith have in the past. I still identify as a Christian though I no longer subscribe to the literal interpretation of the Bible. And upon closer inspection, I realized a fair number of people who feel comfortable using the Bible to condemn homosexuality did not subscribe to a literal interpretation of the Bible either. Once I began seeing the hypocrisy I spent more time seeking God and less time trying to make others comfortable. My last pastor was Rob Bell who founded Mars Hills (Bible Church) in Michigan before getting linked with Oprah Winfrey. When he was shunned by many in the faith community for writing a book entitled "Love Wiins", I took that as my cue to make my walk more personal. And that is what I will tell others–religion is communal but faith is personal.
ME: You grew up in Hockeytown — the home of the Red Wings — and fell in love with the sport. My brother once worked the New Jersey Devils and I came to share the same passion. One thing that's obvious about the league's fan base is a lack of support from the African-American community, yourself obviously excluded. Why do you think that is?
GRANDERSON: First, I believe only two of the top 10 states with the highest African-American population rate have NHL teams and unlike football and basketball, college hockey generally doesn't draw a lot of eyeballs. African-Americans are disproportionately poorer than their white counterparts and hockey, like tennis and golf, is pretty expensive. So the combination of exposure and price point to participate is a deterrent. Then there's the lack of cultural influence of the game's biggest stars, especially post-Gretzky. No one in hockey comes close to the level of brand recognition of top NBA and NFL players. I don't think anyone in hockey comes close to Serena Williams. So there are many factors why the interest/support isn't there. But I will say the people I know who love hockey, LOVE hockey so there's something to be said for quality over quantity.
ME: You broke into journalism in Atlanta after graduating Western Michigan in 1994. But your first job wasn't in sports or politics, but home design. How did you transition out of that to sports?
GRANDERSON: The Atlanta Journal Constitution was my fourth paper. My first beat sports job was the college newspaper covering our basketball team. In fact I did sports and politics when I was at the Western Herald so I guess you can say I'm doing what I've always done. I covered local politics when I was a stringer for the South Bend Tribune. My beat required local and state politics at the Grand Rapids Press. My first big taste of national politics came when then Governor George W. Bush spoke in Grand Rapids the day after FOX News broke his DUI arrest. I think it's funny when people suggest I should stay in my lane because a good journalist has no lane. We are taught to be able to report and cover anything. So not only do I rely on my experiences I also rely on my training. I provide opinionated commentary today so I can understand why someone may get me confused with say someone who is an ex-coach or a former campaign aide–a person who is more comfortable focusing in on one topic. But first and foremost I am a journalist and so my comfort level is attached to my reporting and I spend a lot of time reporting.
ME: I would be remiss if I didn't get your pick on the general election. Would wins and what ultimately is the deciding factor?
GRANDERSON: Assuming Clinton secures the nomination, I believe she will be the next president of the United States. First, on paper, she is perhaps the most qualified to hold the office since H.W. (George Bush 41). Second, despite the narrative she is unpopular, she won more primary votes than President Obama and currently leads the extremely popular Senator Sanders by about 3 million votes. That suggests her support is not as shaky as many of us think. And also Trump will motivate a lot of people to get to the polls. Doesn't mean they're "with her" as much as they're against him.
It's hard for folks outside the bubble to understand this, but what Granderson is currently excelling at is the broadcast and print journalism version of Bo Jackson playing for both the Kansas City Royals and Los Angeles Raiders. Flip around the national dial and you'll see him on ESPN shows like SportsNation or Outside the Lines here, ABC's Good Morning America or Sunday's This Week there, with plenty of CNN commentary at any time of day to go around. Toss in all of the writing he's doing for CNN.com and ESPN.com, which can be much more time-consuming, and you've got someone with a decidedly full plate.
"Occasionally I need to take a breather but for the most part I work everyday. Days off here and there, vacations are rare," Granderson explains. "I'm passionate about what I do and I'm eternally curious so even though I work a lot it never feels like work, which is a blessing."
And that's the whole trick, right? As Confucius once said: Choose a job you love, and you will never have to work a day in your life.
In LZ Granderson's case, he has at least six jobs at the moment. He's proving multiple boxes can be checked off.
And appears to be enjoying every minute of it…
— —
Follow Joe Concha on Twitter @JoeConchaTV
This is an opinion piece. The views expressed in this article are those of just the author.