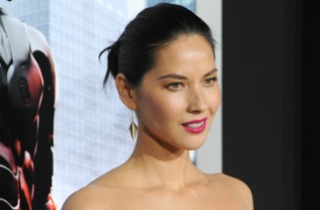 HBO's The Newsroom caught a lot of critical flak this week for a controversial storyline about involving a young woman who claimed she was raped and set up a website where women could come forward anonymously to tell their stories. One of the main characters is sent to convince her to debate the man she accused of raping her on live television. But instead, he tells her not to do it and says he is "morally obligated" to believe the word of the man she's accusing, talking about how accusations like that go viral and ruin lives.
Critical objection to the scene centered around what felt like creator Aaron Sorkin himself saying this is the way it ought to be. One of the show's own writers disowned the storyline, and Sorkin himself said in an exclusive statement to Mediaite that he's "happy" the episode has set off such debate (less so about the writer going public).
And this morning, one of the show's stars, Olivia Munn, defended the storyline from the very bad critical reaction. On the writer, Alena Smith, who spoke out against the episode, Munn said the writers' room should be a place of privacy and the fact that Smith went public is a "red flag for somebody that wants attention."
But as for the actual content of the episode, this is how Munn defended the storyline and how it was framed:
"Sorkin writes things so that they can be talked about, and so we show both sides of it… I think it was important to show what it's like for women to be a rape victim, want to speak out, and then have somebody come in and say, 'Hey don't do that. That's going to be bad for you.'"
In other words, she said, Sorkin was just showing what happens to women in situations like that, not necessarily defending what the character did.
Listen to the audio below, via EW Morning Live:
[image via Jaguar PS/Shutterstock]
— —
Follow Josh Feldman on Twitter: @feldmaniac
Have a tip we should know? tips@mediaite.com
Josh Feldman - Senior Editor