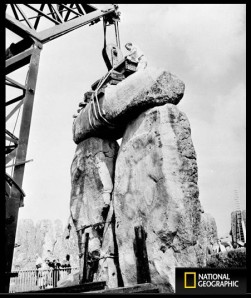 Today is apparently media hoax day. Earlier today TMZ.com, they of the enormous scoops, looks to have gotten punk'd when they published an old photo of what appeared to be then-senator John F. Kennedy sunbathing on a ship filled with naked women. Alas (or not depending how rosy your view of Camelot is) the picture appears to be a fake. Well hold on to your hats folks, this isn't the only fake picture making its way around the media world.
A Russian website has today posted photos of what appears to be an upcoming National Geographic spread, which purportedly uncovers photos of British authorities constructing Stonehenge in….1898. Gasp! Here is an Google English translation of the page. The photo spread, which online at least appears totally believable, alas (again) is a fake. NGmag twittered this earlier: "FYI: there is NO "Stonehenge is a Hoax" story coming out. Today is Dia de los Santos Inocentes/Childermas. Think "April Fools."
According to Wikipedia Dia de los Santos Inocentes or Childermas is "a day to commemorate the killing of the Holy Innocents. Variously held on 28th December in the Western Church and 29th December in the Eastern Church. In Spanish speaking countries this is often a prank filled day like April Fools' Day." Stonehenge, meanwhile is (depending on whom you consult) a famous prehistoric burial ground and/or major British tourist attraction and/or subject of a famous Monty Python sketch and/or the landing spot of aliens. No doubt at least one of these groups is up in arms right now about the trumped up story. Those crazy Russian Childermas jokesters.
See all the photos here.
Have a tip we should know? tips@mediaite.com