The Plot Thickens: Anchor Who Got Criticism for Necklace Was Wearing Jewelry Designed for On-Air Talent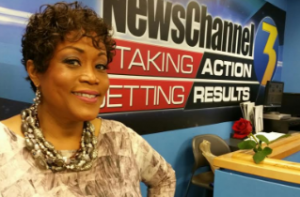 Yesterday, we brought you a story about Barbara Ciara, a woman who decided she wasn't going to let a viewer criticize her choice in jewelry and get away with it. He called it all "the biggest and worst jewelry I have ever seen" and was so put off by her necklaces and earrings that he felt compelled to email the station she works for. She replied by telling him to pay more attention to the news.
Well, there is a new development in what appeared to be an open-and-shut case of point and counterpoint. Robyne Robinson reached out to Mediaite today to let us know that not only is much of the "biggest" and "worst" jewelry the viewer had ever seen from a collection she designs, but that she is a former news anchor who designs with on-air talent in mind.
As she explained to us, "[J]ewelry can disappear on the screen… and some news anchors like beautiful pieces that can be seen."
Called ROX, her brand is based out of Minneapolis and is described as "exotic, affordable jewelry sold globally." It has been worn by celebrities like Judith Light, Carolyn Hennesy, Paula Newsome, Sanaa Lathan, Lizzo and Fab Five Freddy. It has graced runways in New York Fashion Week in 2008 and 2011. Most importantly, though, it is a go-to for anchors who want their jewelry visible under the bright lights of a television studio.
Robinson counts Micah Materre of Chicago's WGN-TV, Roxanne Battle Morrison of Minneapolis' KARE-TV, and Elizabeth Reis of Minneapolis' KSTP 5 among her clients.
Knowing that Ciara's accessories were created specifically to be worn in photos and video segments makes the complaint about them all the more frivolous to those who oppose random e-criticisms, as Ciara does and various other anchors do, too.
That, of course, doesn't surprise Robinson, who said this:
Viewers will call/email/tweet with unusual comments about your hair, clothing and makeup all the time.  Some are rude, some think they're helping you. Some callers are other anchors to give a big thumbs up.  Some were fetishists – really.  I had a guy that would call immediately after a newscast to ask what shoes would I wear with the outfit I had on. But my response was always much shorter than Barbara's: "Did you LISTEN to any of the news?" I always took my calls. Callers are brave. They aren't afraid to get a response.  E-mailers and folks who tweet are cowards.
It should be noted that in the time it took me to write this, a man commented on the photo of Ciara that Robinson posted to my public Facebook page. He was kind.
"Love the jewelry," he wrote.
[image via Barbara Ciara]
For more from Lindsey, check out her Twitter or Facebook.
Have a tip we should know? tips@mediaite.com