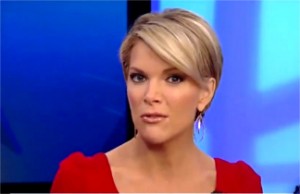 A few hours ahead of the airing of her much-heralded interview with Donald Trump, Megyn Kelly sat down with the hosts of The Five to reflect on the events of the last year and on what it feels like to be attacked by Trump's supporters.
"The truth is when Trump comes after you, it's not just Trump," she said. The one-sided feud between the two began after she challenged him at the first GOP debate in August with questions about his history of remarks aimed at women. He blasted her on Twitter for months and tried to strong-arm Fox into having her removed from the moderator table at a subsequent debate, which he ended up sitting out. Among the epithets Trump lobbed at Kelly were "crazy," "sick," and "overrated," and he took credit for her celebrity.
"Any of us, we're in news. We're used to people saying nasty things about us. Everybody here has a thick skin," she said. "It's what happens with the supporters, not all of them. Most of them are just God lovin' Americans who are home, like, 'Yes! Would you help me out for the love of God?'"
She continued: "But some are not that way. And some take to serious threats. And I have three young kids. And I don't have Secret Service following me around. And so that piece of it has been very dark, and I'm hoping that's all over now."
Kelly's interview with Trump will air on the Fox broadcast network at 8 p.m. Tuesday. Trump has promised to live-tweet it.
I will be live tweeting my interview with @megynkelly on the Fox Network tonight at 8! Enjoy! pic.twitter.com/nlJssZeIWm

— Donald J. Trump (@realDonaldTrump) May 17, 2016
Have a tip we should know? tips@mediaite.com