The Reporter Who Was Harassed for Profiling Melania is Behind the Questions on Her Immigration Status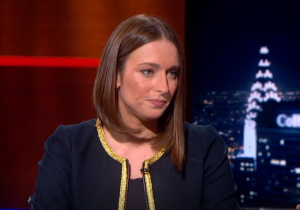 A lot has happened to Melania Trump this morning. A Politico report suggested that those nude photos that were leaked of her last week might just be proof that she immigrated here illegally. Since her husband, Donald Trump, is running for president on a platform of cracking down hard on illegal immigration (and legal immigration, in some cases), it wasn't a good look, so she very quickly released a statement saying she's always played by the rules when it comes to her citizenship.
That Politico report is something special not only because it got the campaign moving into damage control mode so remarkably fast, but also because of one little sentence near the bottom of the page:
Julia Ioffe contributed to this report.
Julia Ioffe. Wondering why her name sounds so familiar? It's because you read about the alleged harassment she was plagued with after she profiled the Slovenian immigrant in GQ right here on Mediaite. It was so bad that she ended up filing a police report. For her part, Trump said that Ioffe had "provoked" the harassers with her thorough report.
It's surprising to see that even after that harassment, Ioffe jumped back in the ring to work on a piece that is arguably more incendiary than her original profile.
@JuddLegum I mean, she said I provoked, so here I go again.

— Julia Ioffe (@juliaioffe) August 4, 2016
Not only did she contribute to the report, though, but she has been actively promoting the piece on Twitter and engaging with the campaign's responses.
Only Melania can prove us wrong. She should release her immigration records, same way she said Obama should release his birth certificate.

— Julia Ioffe (@juliaioffe) August 4, 2016
Melania says she was in full compliance in 1996, but what about in 1995 when she did the nude photoshoot in NY? https://t.co/76Vj0w4o6v

— Julia Ioffe (@juliaioffe) August 4, 2016
Certainly, the report has gotten people talking and there are numerous calls for the campaign to release her immigration records. If it turns out that the Politico writers are correct, this will be one of the biggest stories from the campaign season. Still, even in the journalistic pursuit of what could be a groundbreaking story, it seems especially brave — even reckless — to double down in the face of harassments and threats of a severity that has warranted police reports in the past.
[image via screengrab]
Have a tip we should know? [email protected]