'The Russians Are Not Our Friends': Mitch McConnell Comments on Russian Hacking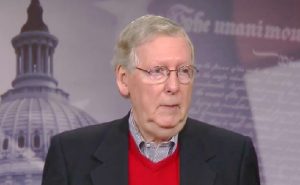 In the wake of reports that the CIA has concluded that the Russian government interfered in the presidential election to assist Donald Trump, Senate Majority Leader Mitch McConnell held a news conference this morning to deliver a statement.
McConnell, whose wife has recently been named to Trump's cabinet, stated that the intelligence community had assessed the Russian government "directed the recent compromises of e-mails from U.S. persons and institutions, including from U.S. political organizations." The Kentucky lawmaker then said that he agreed with the four GOP and Democratic senators who called for an examination of this issue.
The Republican leader also pointed out in his statement that they should follow regular order in the Senate in regards to investigating this matter. He added criticisms of the Obama Administration for attempting to reset relations with Russia, which in his opinion allowed Vladimir Putin and the country to expand its "sphere of influence" over the past eight years.
Concluding the statement, McConnell remarked that he had "highest confidence in the intelligence community and especially in the intelligence agencies," which appears to contradict what the President-elect has publicly stated about the information that has been put forth.
After opening it up to questions, McConnell was asked if he believed Russia intentionally swayed the election for Trump. McConnell first referenced his statement and then said he everything would go through regular order and the Intelligence Committee in the Senate, he then gave a personal comment.
"Well, let me just speak for myself," the Majority Leader noted. "The Russians are not our friends. They invaded Crimea. Senator McCain and I and our Democratic friends met with the delegation from the Baltic countries just this past week. To say that they are nervous about the Russians is to put it mildly."
McConnell further discussed his feelings about Trump's rumored Secretary of State pick Rex Tillerson and his coziness with Russia along with Trump's criticisms of the CIA and intelligence agencies.
Trump adviser Jason Miller was asked about McConnell backing an examination of Russian hacking and gave the following statement.
.@JasonMillerinDC dodges question from @shelbyholliday on whether Trump would support congressional probe into alleged Russian hacking: pic.twitter.com/pTMKpGdMk6

— Sopan Deb (@SopanDeb) December 12, 2016
Watch the clip above, via CNN.
[image via screengrab]
–
Follow Justin Baragona on Twitter: @justinbaragona
Have a tip we should know? tips@mediaite.com