The Shmarmont! CBS Profiles The Chateau Marmont, Home of Movie Stars and Now A Movie Star Itself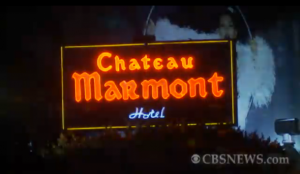 One of the best things about dormant holiday weekends is the gems that idle surfing bring you to. For me this post-Christmas (and, for some, Boxing Day) morning, it was CBS News' profile of the Chateau Marmont, one of Hollywood's most storied hotels — and one of my favorite goofy nicknames.
Backup: I enjoy nicknames, not unlike, I suppose, George W. Bush. My most successful nickname to date has been "BriWi" which I coined as shorthand for Brian Williams in mid-2007, and which has been used, I'm pleased to say, by luminaries like Jon Stewart and Jimmy Fallon. I am hoping to do the same for "Shmarmont."
Now back to the fabled hotel. Sofia Coppola's new film, Somewhere, stars Stephen Dorff as an actor living at the hotel, living a life of Hollywood decadence with its upside of money, fame and glamour with a downside of loneliness, emptiness and existentialist angst. He wakes up one morning to a visit from his daughter. Cue character development. In this film, Coppola has made the Chateau Marmont a character, and since it's such an iconic institution so beloved by LA denizens and followers of such things, that bit of stunt casting add an extra element of excitement and anticipation to the film (with some fretting that its magic wouldn't be Lost in Translation. Sorry. Couldn't resist).
The film opened last week (admission: I haven't seen it, and even though it might earn me scorn from film geeks everywhere, I actually only learned of it from CBS this morning. And the Daily Beast's Richard Rushfield didn't like it). There has been — and no doubt will be as the awards season drumbeat proceeds — much ink spilled (or pixels used) about the Chateau Marmont. Chateau Marmont. Chateau Marmont. Chateau Marmont. So many syllables! Couldn't we save so much time just by shortening it more efficiently? Enter: Shmarmont. I will make it happen.
In the meantime, back to important things: This report by CBS is a really fun watch for film-and-Hollywood buffs, with some great lines as well ("The no-tell motel with high thread count sheets" was a good one, from Vanity Fair's Matt Tyrnauer; also the classic from studio head Harry Cohn to William Holden and Glenn Ford in 1939 "If you're going to get in trouble, do it at the Chateau Marmont"). For a perfect idle holiday Sunday few minutes of online edification, watch and enjoy below.

Trailer:


In case this nickname actually takes off — which it totally won't because "Shmarmont" is ridiculous which is precisely why I love it — proof that I was first: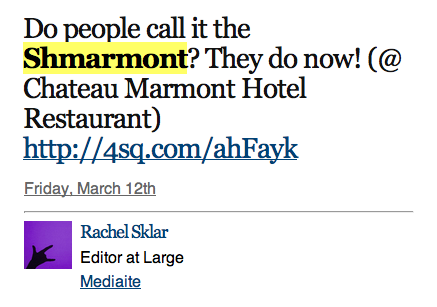 Related:
Sofia Coppola's Somewhere: Boring Rich People in Hotels [Daily Beast]
Chateau Marmont's 10 Most Iconic Moments [Nadine Jolie]
Hollywood's Home for Misbehaving Celebs [ABC News] (to be fair)
Have a tip we should know? [email protected]