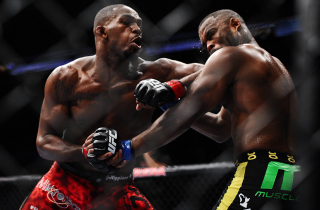 Earlier this month, the New York State Senate overwhelmingly voted to legalize professional mixed martial arts. The bill must now pass through the Assembly, however, before it may be signed into law. Problem is: for several consecutive years, the bill has been blocked in the Assembly, left to die a slow death, in one committee or another, and denied a floor vote.
Most are familiar with the worldwide, wildly popular sport of 'MMA' and its leading promotion company, the Ultimate Fighting Championship (UFC). The almost-weekly events are broadcast not solely on pay-per-view but routinely on our television screens, via FOX, FX, Fuel, and Spike networks. MMA has become almost as much of a national pastime as football, consisting of a vibrant fan base drawing from every demographic.
Banned by Governor Pataki in 1997, during a time when the sport was widely unregulated and had yet to be cleaned up by its current ownership (who bought the fledgling company in 2001), New York and Connecticut are now the only states (yes, the only states out of 50) where professional MMA is outlawed. New York therefore cannot host any professional MMA events, while other nearby locales – such as New Jersey or Toronto – do so instead and reap the economic and social benefits.
But why does this senseless, stubborn ban persist in New York, the world's entertainment capital and home of Madison Square Garden? Thank the unions. One of Big Labor's fiercest battles has been happening right under New Yorkers' noses, as the Las Vegas-based Culinary Union (an affiliate of UNITE-HERE) and its allies in New York flex their considerable political muscle and clout in order to keep MMA out of the state, as a vendetta against – or to apply severe pressure to – the UFC's ownership. Lorenzo Fertitta – Chairman, CEO, and majority owner of the UFC – is, along with his brother Frank, a majority owner of Station Casinos, the successful gaming and hospitality company started by their father in 1973, today consisting of approximately 12,000 non-unionized employees. (See where this is going?) For years, Station Casinos' employees have said 'thanks but no thanks' to the unions' overtures. Undeterred, the Culinary Union has instead focused on applying pressure on the Fertittas by waging war on their other venture, the UFC, not only by lobbying the UFC's sponsors to pull their support and waging a PR campaign against it but, most importantly, by keeping professional MMA (and with it, the UFC) out of New York.
Take a look at the Culinary Union's Twitter account. Rather than postings related to issues customary for a hospitality union, its obsession with attacking the UFC is front-and-center, including even creating websites dedicated to vilifying UFC fighters and executives. Below is a mere sampling of the dozens of Tweets, demonstrating this hospitality union's attacks on, and curious interest in, a sporting league.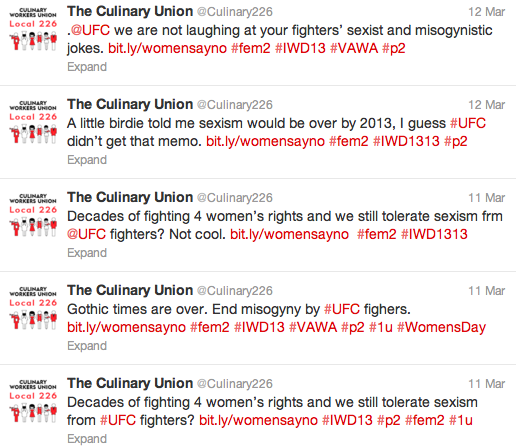 Yes, New Yorkers are essentially being used as pawns in an unrelated, out-of-state labor dispute. And, each and every year, the New York State Legislature has turned a blind eye and allowed this to continue.
When I interviewed Fertitta last May, during a UFC event hosted just outside New York (in New Jersey's Prudential Center), he had this to say on the matter:
"It's quite ironic because the only real opposition that we have is from the Culinary Union in Las Vegas. And it's such an odd thing because by bringing the event to New York, the people we are going to benefit the most are the culinary workers, the people that the Culinary Union are supposed to be representing. So now they're spending these workers' hard-earned dollars, their union dues, to fight an issue merely to aggravate my brother and me. And look, at the end of the day, do we want to be in New York? Of course. Is it make or break for our company? Is it something we have to have? No. We're going to continue to thrive as a company. We have options to do events at all the great cities around the world or come here to New  Jersey. So when the time comes and New York decides that it makes sense to stop listening to the Culinary Union in Las Vegas and actually do things that will benefit the economy in places like Buffalo, Syracuse, Rochester and, of course, the ability to bring a big event to Madison Square Garden, then hopefully we'll be able to do business there."
While Governor Cuomo previously hinted he might include MMA's legalization this year within his annual budget, noting his interest in bringing in economic activity (and proving as much via the tax-break apparently intended to draw The Tonight Show's revenue to the state), he ultimately did not do so.
Meanwhile, a bipartisan group of senators continues to lead the charge. As State Senator Griffo stated:
"It's long past time that we officially sanction this sport in the state. For five years, I've been making the case that the numbers don't lie; bringing MMA events to New York State will have a tremendously positive impact through the jobs that can be created and the spending that will stimulate the economy."
The arguments against its legalization ring hollow, at best, and often reek of fabricated, false talking points. Protests regarding the sport's so-called 'violence,' for instance, are soundly disputed by scholarly studies proving the sport's safety, the UFC's very own record, the strenuous medical requirements it imposes on its fighters, and the dozens of strict combat rules. Nor do such protests address the obvious: despite the ban, the sport is nonetheless viewed on television in New Yorkers' homes, practiced in gyms across the state, and even performed in (ironically, legal) amateur bouts.
So, aside from Big Labor bosses, who wins with the ridiculous continuation of this ban? Certainly not the dues-paying, rank-and-file union members in the state, who would benefit from the work and salary generated by such events; certainly not the owners of New York's hotels, restaurants, shops, and small businesses who are denied the millions in revenue these events would generate; certainly not the state's coffers, missing out on lucrative sales taxes; certainly not the state's athletes who currently participate in amateur bouts with no safety oversight or regulation; certainly not the children who have eagerly taken up MMA as a healthy outlet, yet are implicitly, baselessly told their hobby is 'barbaric'; certainly not the fans, who are forced, in these tough economic times, to spend their hard-earned cash traveling out of state to attend an event; and certainly not the State of New York's image, who appears beholden to Big Labor worse than Chicago itself.
It is time for New York's legislators to act on behalf of New Yorkers. Enough is enough. As any boxing or MMA fan will tell you, a good, clean fight is simply fun – but one where special interests and back-room politics prevail over the people's benefit? Well, that's simply a disgrace.
Have a tip we should know? tips@mediaite.com