Police Reveal Newtown Shooter Had 'NRA Certificate' As Group Denies 'Record Of Member Relationship'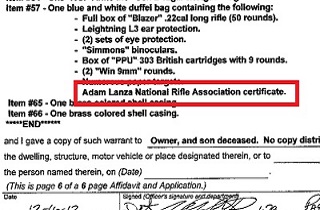 Authorities in Connecticut released five search warrants on Thursday, which revealed items seized from the home of Newtown shooter Adam Lanza and his deceased mother, Nancy Lanza. Among the hundreds of items revealed in the warrants, which included hundreds of rounds of ammunition, was an item described as an "Adam Lanza National Rifle Association Certificate."
The discovery wasn't that unusual, especially given that Connecticut state law specifically requires NRA or Department of Environmental Protection (DEP) certification, but the NRA's rapidly-posted denial of a "member relationship" with the shooter is a bit of a head-scratcher.
The warrants, for the Lanza home and the car the shooter left in the Sandy Hook Elementary School parking lot, reveal a veritable armory's-worth of ammunition, plus various books, laptops, handwritten notes, Samurai swords, a "military-style uniform," and "three (3) photographs with images of what appears to be a deceased human covered with plastic and what appears to be blood."
They also reveal that police discovered an "Adam Lanza National Rifle Association Certificate," which the state of Connecticut would have required had the shooter been old enough to purchase firearms, and a copy of the NRA Guide To Basic Pistol Shooting.
Although the possession of the certificate doesn't necessarily indicate NRA membership, the National Rifle Association was quick to distance itself from the revelation, releasing this carefully-worded denial:
There is no record of a member relationship between Newtown killer Adam Lanza, nor between Nancy Lanza, A. Lanza or N. Lanza with the National Rifle Association. Reporting to the contrary is reckless, false and defamatory.

-NRA-
To the extent that it matters (and it apparently matters to the NRA), their statement doesn't appear to preclude the possibility that a record of a past membership exists, or existed. The NRA has been accused of counting deceased members in order to exaggerate their numbers, but they're presumably just as capable of not counting them.
Given the family's level of involvement with firearms, it would have been shocking if police hadn't found anything NRA-related in the home. Why the NRA felt the need to go to such trouble to distance themselves is also not surprising, but the curious wording of their statement is, as is the idea that they would be willing to release private current or former membership information to the public.
Have a tip we should know? tips@mediaite.com