The View's Paula Faris: When Trump Insults Megyn Kelly, What is He 'Trying to Hide?'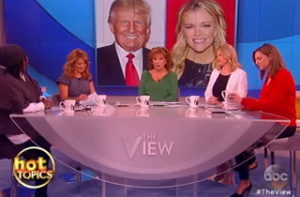 Today, the women of The View appeared to have enough of GOP frontrunner Donald Trump's treatment of Fox News anchor Megyn Kelly. The businessman has attacked the Kelly File host multiple times in the past, but recent attacks seemed to spur the View hosts into today's fed-up discussion.
Following Trump's insistence that he would skip the next debate if Kelly is moderating, Whoopi Goldberg asked, "Does she make him nervous? … You're not scared of Megyn Kelly, are you?"
Co-host Paula Faris said that she has "the utmost of respect" for Kelly before delving deeper into Trump's previous digs at the reporter and quoting him as saying, "I think she's not a professional. I don't think she's a very talented person. I don't think she's a good reporter."
"As the potential leader of the free world, you have to be able to face scrutiny … and if you're not willing to put yourself in that arena, I wonder why. What are you trying to hide?" Faris mused.
"As president, he would be dealing on a day-to-day basis with people who don't agree with him," co-signed Candace Cameron Bure. "This is a little bit overly-sensitive in all the wort ways."
Fox News seems to agree with them, too. Yesterday, they stood by their anchor and released a statement saying they're "very surprised he's willing to show that much fear about being questioned by Megyn Kelly."
[image via screengrab]
For more from Lindsey, follow her on Twitter.
Have a tip we should know? tips@mediaite.com