The Young Turks' Cenk Uygur Blasts MSNBC's 'Pathetic' Apologies for Cheerios Tweet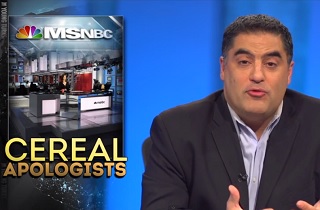 MSNBC President Phil Griffin bought himself some probation from the Republican National Committee by apologizing for a tweet that was sent from the official MSNBC Twitter feed, but also earned a stinging rebuke from former MSNBC host Cenk Uygur of the long-running online show The Young Turks. On Thursday's edition, Uygur blasted the series of apologies from the network over a tweet that he acknowledged was "a little unfair," but had some basis in fact.
The controversy is over a Super Bowl ad that is a followup to a 2013 Cheerios ad that featured a biracial family, and which caused the spot's Youtube page to be flooded with racist comments. On Wednesday night, the official MSNBC Twitter feed tweeted a link to an article on the ad, along with the message "Maybe the rightwing will hate it, but everyone else will go awww: the adorable new #Cheerios ad w/ biracial family." (See the new ad here.)
About three hours later, that tweet was deleted, and apology tweets were issued. The RNC instituted a boycott of MSNBC, demanding a personal apology from MSNBC head Phil Griffin, and Griffin quickly obliged.
Uygur summarized the story, and said, of the reaction to the first Cheerios ad, "Look, they don't represent the Republican Party, but obviously, MSNBC was referring to something. Whoever put that tweet out was saying 'Remember when right-wingers were mad about this ad?'"
"Now, maybe you say 'It's a little unfair to just blanket say right-wingers,'" he continued, "but clearly, the people who were mad were not progressives or liberals, right? Obviously."
Cenk then explained that MSNBC "had good reason to think that right-wingers, in general, might also be mad about biracial families. Why? Remember, we just earlier this week did a story about how Fox News and some right-wingers were upset that there was an ad that involved an American soldier and his Muslim wife."
Uygur played a clip of Megyn Kelly's show (see the full segment here), in which reporter Trace Gallagher points out, as part of his reporting, that a billboard featuring a U.S. soldier and a Muslim woman is "just a few miles from Ground Zero."
The ad, for a product called "Snore Stop," features actual U.S. soldier Paul Evans and his actual girlfriend Lexy Panterra, and was inspired by actual veteran Jamie Sutton and his actual Muslim wife, Aleah Sutton.
Uygur then ran through MSNBC's initial round of Twitter apologies, including one from MSNBC.com head Richard Wolffe, and exclaimed "For Christ's sake, stop it already, stop with the apologies! There was an actual controversy about that ad, that person referred to it!"
"This is supposed to be the progressive network," he added. "They're not a progressive network, they're the apologize to the right wing network."
While acknowledging that there are good people at the network, Cenk said that MSNBC has "become a caricature of, like, weeping liberals, 'We're so sorry, Fox News! we're so sorry, Republicans!'"
He then recounted the RNC's boycott threat, and glumly read Griffin's apology. "This is so sad, this is one of the saddest things I've ever seen. This is so embarrassing, that it's not even fun anymore," Uygur concluded, adding "This is just now pathetic."'
Uygur capped off the rant with a visual gag that represented how he views Phil Griffin's apology, and it ain't pretty.
Here's the clip, from The Young Turks:
Have a tip we should know? tips@mediaite.com