There's a Stripper in Cleveland Blogging Her Experience With the Visiting GOPers Every Day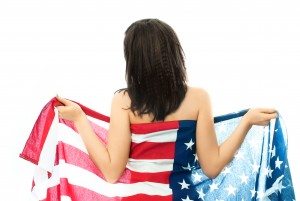 You probably already know this but Republicans are notoriously good tippers among strippers. Yes, the latest GOP platform describes pornography as a "public health crisis," but that hasn't ever stopped them from seeking out private parts, whether they are two-dimensional or up close and personal. Family values get the votes, but they don't quite keep the morale up, you know?
Every four years, strippers from all over the place make the journey to wherever the RNC will be held so that they can cash in on the heavy Republican presence in the city. One of those strippers is doing a daily blog for Gawker this year and so far, she's had some interesting things to say.
After being told to change her look something "simpler" and "plain":
I think the dancer was talking about giving the appearance of having gotten lost on our way home and wandered into the strip club, which, I guess, is how one sells sexuality to a demographic that stands behind a platform that calls porn a "public health crisis." I am meant to exude accidental, innocent sexuality. Like a fuckable child … So on the outfit issue, I'm torn. Do I go for Nancy Reagan's film actress poise in a floor-length stripper gown? Or should I be shooting for a non-speaking luxury product in see-through lace vibe, a la Melania? Or naughty Christian schoolgirl—would a Tony Perkins-type go for that?
On the city's general ambiance:
A zealot with a mic is screaming outside the MSNBC booth about how "sex is temporary" because when you're ninety, all you'll need is a God-fearing woman; the destructive nature of the Internet and media; the cultural damages of seventies love; that porn stars are swine.
On some unexpected similarities:
Meanwhile, a beautiful Slovenian immigrant model—who landed a lifetime non-speaking role as sentient proof of Donald Trump's virility—reintroduces herself to the world on national TV. We're watching it in the club. [Melania Trump]'s face is obscured by the ass-twerking onstage, and her voice drowned out by the maddening din of club music on repeat, but it looks like she's getting a fabulous reception … Melania could be us, I think: beautiful, compliant, shepherded up to the mic to cutely recite feeder lines, on the occasion that it's optically favorable to be seen and not heard. Like a child.
Describing a patron who hates Hillary Clinton:
She's scheming, she's fraudulent, she changes her positions to whatever people want to hear, and she and her husband think they're royalty, he says. I point out that all of those attributes could apply to her opponent. Really, it's a free speech issue, he says, and explains how "political correctness" is a threat to his First Amendment right to make racist generalizations without being called a racist. If he boards a plane with a person "in robes praying to Mecca," he says, then he should have a right to worry about that. He adds, "the Democrats need to take notice, because they're scaring off people like me who would normally be on the left."

He just keeps talking. I say nothing. "I'm really enjoying our conversation," he says.
The perspective is an interesting one and not something people outside of the sex working community hear very often, so go check it out.
[image via Shutterstock]
Have a tip we should know? tips@mediaite.com