They're Here, They're Queer and They're For Trump: Gays for Trump Rally Around the Country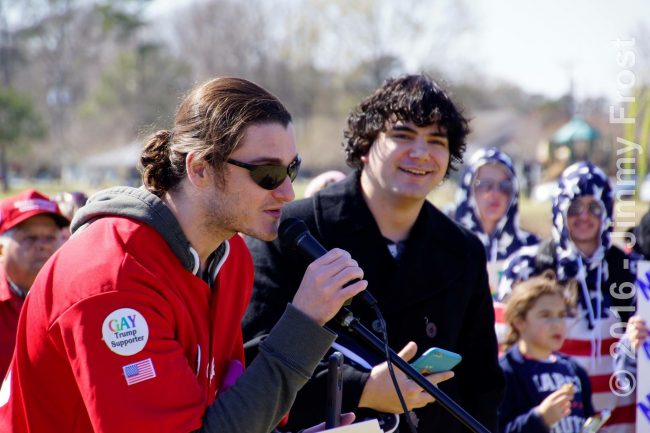 When President Donald Trump won the 2016 Presidential election, he did so with a coalition of strong base turnout and better than expected numbers among demographics he lost.
While LGBT Americans voted overwhelmingly for Hillary Clinton, a vocal minority stood with the brash New York billionaire. They were out in force Friday, playing a major role in organizing a slate of rallies in Washington and across the country to cheer on the man they helped win the White House.
"We are a national organization that is basically educating and mobilizing volunteers across the nation," Scott Presler, the co-founder of Gays for Trump told Mediaite. "We are talking about how Mr. Trump is going to protect our rights and protect us from terrorists."
ATTENTION:

Nationwide #March4Trump on Saturday, March 4th, 2017

Find a local march near you:https://t.co/RzmcAKgdk3#PresidentsDay pic.twitter.com/uz2KiGEPri

— Scott Presler VA (@ScottPresler) February 20, 2017
Presler led a Virginia branch of the march which he said drew about 400 people, a number he boasted far outnumbered those who came to protest. He estimated that the D.C. event, drew 1,000. The D.C. march also featured Joy Villa, who made waves at the 59th Grammy Awards for her "Make American Great Again" dress.
#proudAmericans #maga #march4trump @March4Trump @andresoriano @realDonaldTrump pic.twitter.com/6VMGxNBdbE

— Joy Villa (@Joy_Villa) March 4, 2017
"Our cities are being assailed, our police are under attack, and our livelihoods are being given away. From radical Islamic terrorism to our deliberately undermined military, the challenges posed from without are just as dangerous," said the website for March4Trump, the march's umbrella organization. "Come show your support for him, each other, and our country right in the heart of our capital."
The website also referred to unnamed entities as a "seditious fringe" and a "propaganda apparatus … further shredding the truth"
Presler himself had strong words for protestors. "I just wish that the anti-Trump protesters would not set things on fire and pepper spray people and bludgeon people."
[image via Scott Presler]
Have a tip we should know? tips@mediaite.com