This Bloomberg Article About Domino's Is Set Up Like the Chain's 'Pizza Tracker'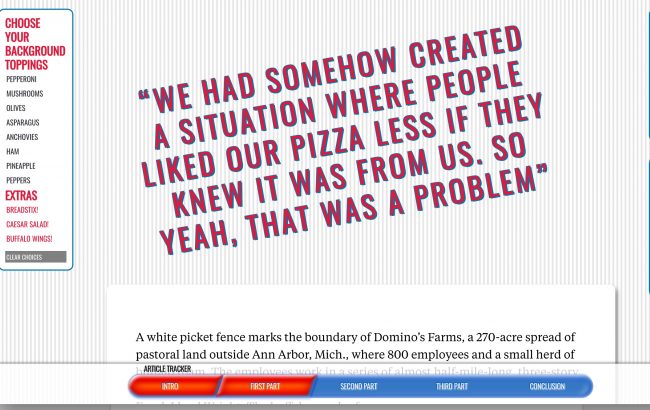 Look at this article right now.
For years, the Domino's pizza tracker has enabled everyone from the socially anxious to the inhabitants of an entire dorm hall suite to order exactly what they wanted from the pizza chain with absolutely no human interaction whatsoever. The cool bonus was that the ordering process was actually fun. There were bright colors and even page themes to play with while a progress bar told the hungry customer, step by step, what was happening to the dough that woulds soon become their pizza.
Over on Bloomberg today, there is a truly robust feature on Domino's. Written by Susan Berfield, it focuses on the chain's big redemption story. You recall all the commercials where Domino's brass and cooks reviewed what was being said about their pizza in focus groups and online, then straight-up agreed that they were serving trash and vowed to change it. The choice to take ownership of bad behavior and rectify it resonated and worked well.
What is really resonating right now online, though, is the Bloomberg article itself. Seriously, it's set up like the pizza tracker! Readers can select pepperoni or breadsticks to float around the background of the piece and navigate to the intro, "first part," or conclusion using the tracker at the bottom of the page. In the same way the pizza tracker made ordering online fun years ago, it's making reading a feature on a business's finances fun now.
the web design on bloomberg features is always ?? but it really outdid itself with this domino's jam https://t.co/oOG05aT3g4 pic.twitter.com/mXzguZGbKo

— alyssa bereznak (@alyssabereznak) March 15, 2017
All articles should have this layout https://t.co/d0kCjABvol

— Taylor Lorenz (@TaylorLorenz) March 15, 2017
Finally I can get a Bloomberg article the way I like it: topped with anchovies. https://t.co/SUnBBHHnad pic.twitter.com/wKbQDuE3a9

— Matt Levine (@matt_levine) March 15, 2017
Go check it out. Maybe order a pizza first.
[image via screengrab]
——
Have a tip we should know? [email protected]