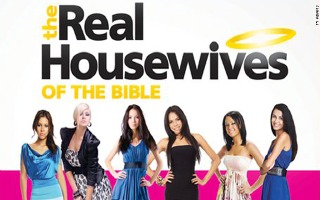 There you are, reading your Bible on a Friday night (just stay with me on this), and thinking "You know what? These women really know how to bring the drama. They'd make for great TV!" Right?
Well, Ty Adams, an evangelist and CEO of Heaven Enterprises, is creating a spin-off of Bravo's popular "Real Housewives" franchise focused on married and single women living Christian values. The show, called "The Real Housewives of the Bible," will feature much less table-flipping and weave-pulling than its predecessors, and will also follow the struggles of fictionalized characters based on women from the Bible, not "real" women like in the other shows. So why watch? Adams explains:
Because of the popularity of the reality shows we've seen of the other "Real Housewives," I saw women that weren't able to stabilize their own relationships, and we get to see this aired on screen and yet we don't see any solutions as to the problems they're facing. I want people to understand how it feels again to fall in love. I wanted to showcase women who are having issues in relationships just like you see on these reality shows because this is real life. We're not afraid to face those tough issues and so we wanted to not necessarily pick the perfect person who had everything, we wanted to find the hard issues and see how people work this out where you can really grasp the essence of what love and true love in relationships is.
Bravo, it should be noted, is not affiliated with Adams' project.
Well, now I feel guilty for being entertained by the over-inflated and highly dramatized personal struggles of strange, vaguely orange women on television. But not enough to stop watching. How about all of you… Would you watch Adams' show?
h/t FoxNews.com
Have a tip we should know? tips@mediaite.com